Waiting on Wednesday is hosted by
Breaking the Spine
.
It's a weekly meme about upcoming books we're excited about!
(Enemies of the Prince #1)
by Justin Somper
Publication Date: May 27, 2014
From Goodreads:
Prince Anders, the ruler of Archenfield, has been murdered, leaving his younger brother, Jared, to ascend the throne. Sixteen-year-old Jared feels unprepared to rule the kingdom and its powerful and dangerous court, yet he knows he can rely on the twelve officers of the court to advise him. He also knows he can just as easily be at their mercy - especially when it appears that one of them may be responsible for his brother's death. Unable to trust anyone, Jared takes it upon himself to hunt down his brother's killer - but the killer may be hunting him, as well.
Why I'm Excited
It sounds along the same lines as Jennifer A. Nielsen's The Ascendance Trilogy, and I am dying for another series like that! I loved The Ascendance Trilogy, and though I literally just finished a few weeks ago, it feels like I've been done with it for forever! I need something else!!! And this sounds perfect for filling that void. :)
by Merrie Haskell
Publication Date: May 27, 2014
From Goodreads:
When Sand wakes up alone in a long-abandoned castle, he has no idea how he got there. The stories all said the place was ruined by an earthquake, and Sand did not expect to find everything inside - from dishes to castles to apples - torn in half or slashed to bits. Nothing lives here and nothing grows, except the vicious, thorny bramble that prevents Sand from leaving. Why wasn't this in the stories?
To survive, Sand does what he knows best - he fires up the castle's forge to mend what he needs to live. But the things he fixes work somehow better than they ought to. Is there magic in the mending, granted by the saints who once guarded this place?
Unexpectedly, Sand finds the lost heir, Perrotte, a girl who shares the castle's astonishing secrets and dark history. Putting together the pieces - of stone and iron, and of a broken life - is harder than sand ever imagined, but it's the only way to gain their freedom, even with the help of the guardian saints.
Why I'm Excited
Merrie Haskell is easily becoming my new favorite Middle Grade fantasy author. I loved
The Princess Curse
(it wasn't, granted, the best fairy tale retelling I have ever read, but the more I think about it, the more I loved it), and I am thoroughly enjoyed
The Hangbook for Dragon Slayers
. I can't wait for her next book!
What are you currently reading?
Hunted across the True Sea, haunted by the lives she took on the Fold, Alina must try to make a life with Mal in an unfamiliar land. She finds starting new is not easy while keeping her identity as the Sun Summoner a secret. She can't outrun her past or her destiny for long.
The Darkling has emerged from the Shadow Fold with a terrifying new power and a dangerous plan that will test the very boundaries of the natural world. With the help of a notorious privateer, Alina returns to the country she abandoned, determined to fight the forces gathering against Ravka. But as her power grows, Alina slips deeper into the Darkling's game of forbidden magic, and farther away from Mal. Somehow, she will have to choose between her country, her power, and the love she always thought would guide her - or risk losing everything to the oncoming storm.
Book #2 in The Grisha trilogy! I loved Shadow and Bone, and with Leigh Bardugo being at a nearby bookstore in June, I am whipping through this trilogy as fast as I can! And I'm loving it! I'm about halfway through Siege and Storm, and it's awesome!
What did you recently read?
Your mother hollers that you're going to miss the bus. She can see it coming down the street. You don't stop and hug her and tell her you love her. You don't thank her for being a good, kind, patient mother. Of course not - you launch yourself down the staris and make a run for the corner.
Only, if it's the last time you'll ever see your mother, you sort of start to wish you'd stopped and did those things. Maybe even missed the bus.
But the bus was barreling down our street, so I ran.
Fourteen kids. One superstore. A mission things that go wrong.
In Emmy Laybourne's action-packed debut novel, six high school kids (some popular, some not), two eighth graders (one a tech genius), and six little kids trapped together in a chain superstore build a refuge for themselves inside. While outside, a series of escalating disasters, beginning with a monster hailstorm and ending with a chemical weapons spill, seems to be tearing the world - as they know it - apart.
The first time I picked this book up, I got 15 pages in and put it on my DNF list. I didn't like the writing style and it annoyed me that I didn't know whether the protagonist was a girl or a boy (it's a boy, Dean). But Emmy Laybourne is going to be at the same author event as Leigh Bardugo, so I thought I would give Monument 14 one last chance to wow me. Maybe it's because I was so determined to stick with it, or maybe it really was just the mood, but I got through it and gave it a rather shining 3/5 strawberries. It isn't even close to the best post-apocalypse novel I've ever read, and it does teeter dangerously close to a 2-strawberry rating. But I also think that it will improve as the series continues, and I did enjoy it for what it was: a fast read.
What do you plan on reading next?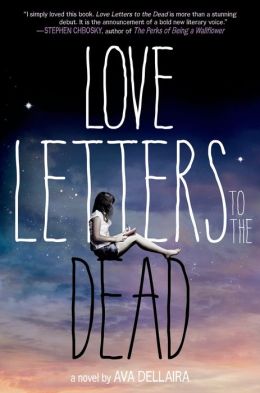 It begins as an assignment for English class: Write a letter to a dead person. Laurel chooses Kurt Cobain because her sister, May, loved him. And he died young, just like May did. Soon, Laurel has a notebook full of letters to people like Janis Joplin, Amy Winehouse, Amelia Earhart, Heath Ledger, and more; though she never gives a single one of them to her teacher. She writes about starting high school, navigating new friendships, falling in love for the first time, learning to live with her splintering family. And, finally, about the abuse she suffered while May was supposed to be looking out her. Only then, once Laurel has written down the truth about what happened to herself, can she truly begin to accept what happened to May. And only when Laurel has begun to see her sister as the person she was; lovely and amazing and deeply flawed; can she begin to discover her own path.
I don't normally do contemporary, but Ava Dellaira is going to be at the same event as Leigh Bardugo and Emmy Laybourne, so I thought - why not? Besides, the whole letter thing has me intrigued. Telling a story purely through letters is a writing device that works on me. So I'm very excited to delve into this contemporary.