BOUGHT
Love Letters to the Dead by Ana Dellaira
It begins as an assignment for English class: write a letter to a dead person.
Laurel chooses Kurt Cobain because her sister, May, loved him. And he died young, just like May. Soon, Laurel has a notebook full of letters to the dead - to people like Janis Joplin, Heath Ledger, Amelia Earhart, and Amy Winehouse - though she never gives a single one of them to her teacher. She writes about starting high school, navigating the choppy waters of new friendships, learning to live with her splintered family, falling in love for the first time, and, most important, trying to grieve for May. But now do you mourn for someone you haven't forgiven?
It's not until Laurel has written the truth about what happened to herself that she can finally accept what happened to May. And only when Laurel has begun to see her sister as the person she was - lovely and amazing and deeply flawed - can she truly start to discover her own path.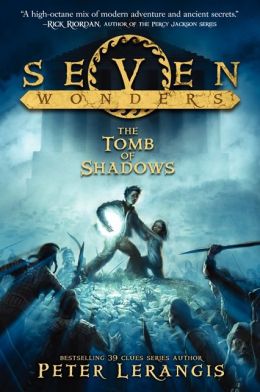 The Tomb of Shadows by Peter Lerangis
Three friends left.
Jack McKinley and his friends defeated the Colossus of Rhodes, unearthed the treasures of the Hanging Gardens of Babylon, and recovered two of the seven lost Loculi - only to find they'd been betrayed.
Two sides split.
With Babylon in ruins, Marco on the Massa side, and ancient secrets coming unraveled, the Select don't know who to trust or where to turn. Their G7W powers are growing at a furious pace, their worlds have been turned upside down, and the Massa are hot on their heels. But Jack, Aly, and Cass have no choice but to fight on.
One life lost.
With the fate of the world in the balance, the friends hind the next stop on their quest, where they have to face down their own demons and engage in an epic battle with foes long gone. When promises are broken, blood is spilled - and the Select have to destroy the one thing that might have saved them all.
The Night Gardener by Jonathan Auxier
The Night Gardener follows two abandoned Irish siblings who travel to work as servants at a creepy, crumbling English manor house. But the house and its inhabitants are not quite what they seem. Soon, the children are confronted by a mysterious stranger - and an ancient curse that threatens their very lives.
This Week, On The Reading Hedgehog............
May 12, 2014 - Monday
May 13, 2014 - Tuesday
May 14, 2014 - Wednesday
May 15, 2014 - Thursday
May 16, 2014 - Friday
May 17, 2014 - Saturday
Next Week, On The Reading Hedgehog..............
May 19, 2014 - Monday
Author Interview: Shawn Martin
May 20, 2014 - Tuesday
Top Ten Tuesday #45: Top 10 Books About Friendship
Teaser Tuesday #6
May 21, 2014 - Wednesday
Waiting on Wednesday #48 + WWW Wednesday #18
May 22, 2014 - Thursday
Review: Absent - Katie Williams
May 23, 2014 - Friday
Review: After the Parch - Sheldon Greene
May 24, 2014 - Saturday
Guest Post: All About Books!