This week's Top Ten Tuesday topic will be a fun one! Top 10 Book Covers I'd Frame As Pieces of Art. If I had more wall space in my library, I would totally use book covers as pictures! I'd love to do a huge, long collage of different book covers I love. But, I suppose such an idea will have to remain in my dreams and on my blog for now. Until I get a bigger library, that is. ;-)
Entwined by Heather Dixon.
It probably comes as hardly a surprise to any of you that I would choose this book. I just love the silver filigree so much!
Ruby Red by Kerstin Gier.
More silver filigree and pretty stuff!
The Book of Ti'ana by Rand Miller.
Such gorgeous covers this trilogy has. . . .I would frame every last one of them. So pretty. . . .
Reckless by Cornelia Funke.
And still more silver filigree. There's a pattern, I see. ;-) I wouldn't put this one in a bedroom, unless I wanted to frighten house guests. But you gotta to admit: it's pretty even with its creepiness.
Inkheart by Cornelia Funke.
Don't get me wrong - I do like the American cover art for the Inkworld Trilogy, but I wish we had the German covers instead. They're so gorgeous!!!!!!! Look at that! Just look at it!
Peter Nimble and His Fantastic Eyes by Jonathan Auxier.
Because this cover is just fun.
Witchlanders by Lena Coakley.
I just love the ice-blue color.
Shadow and Bone by Leigh Bardugo.
It's spooky and awesome and Russian!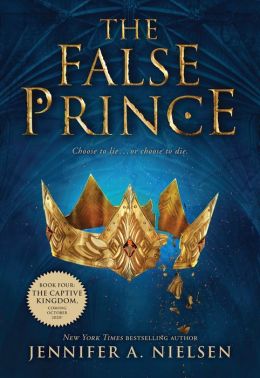 The False Prince by Jennifer A. Nielsen.
It's simple and blue and pretty!
The Archived by Victoria Schwab.
Yeah, it's got a face on the front. But I still like it.
- Grab the book you're currently reading.
- Flip to a random page.
- Choose 2 sentences and share them!
"Intelligence," she whispered. "It's time to do some sleuthing." Nancy Drew was always referred to as a "young sleuth," and Hazel thought that was a good word. Hazel Kaplansky, the young sleuth, she imagined her own adventure being told, had long harbored a hunch about Mr. Jones, and now she was going to prove his dastardly nature. Other girls might be afraid but not our heroine!
The Spy Catchers of Maple Hill by Megan Frazer Blakemore
pg. 79 (ARC)