Waiting on Wednesday is hosted by
Breaking the Spine
.
It's a weekly meme about upcoming books we're excited about!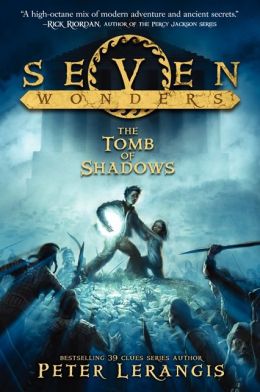 (Seven Wonders #3)
by Peter Lerangis
Publication Date: May 13, 2014
From Barnes & Noble:
Three friends left.
Jack McKinley and his friends defeated the Colossus of Rhodes, unearthed the treasures of the Hanging Gardens of Babylon, and recovered two of the seven lost Loculi - only to find they'd been betrayed.
Two sides split.
With Babylon in ruins, Marco on the Massa side, and ancient secrets coming unraveled, the Select don't know who to trust or where to turn. Their G7W powers are growing at a furious pace, their worlds have been turned upside down, and the Massa are hot on their heels. But Jack, Aly, and Cass have no choice but to fight on.
One life lost.
I haven't gotten around to reading the first two books in this series - yet. I have them on my shelf, and because May is my "catch up on series" month, I'm going to make this series top priority - so I can read The Tomb of Shadows when it comes out! this just sounds fun and interesting and dramatic - a lot like Percy Jackson and Children of the Lamp. Both series I enjoy immensely.
by Lauren Miller
Publication Date: May 13, 2014
From Goodreads:
What if there was an app that told you what song to listen to, what coffee to order, who to date, even what to do with your life - an app that could ensure your complete and utter happiness? What if you never has to fail or make a wrong choice?
What if you never had to fall?
Fast forward to a time when Apple and Google have been replaced by Gnosis, a monolith corporation that has developed the most life-changing technology to ever hit the market: Lux, an app that flawlessly optimizes decision making for the best personal results. Just like everyone else, sixteen-year-old Rory Vaughn knows the key to a happy, healthy life is following what Lux recommends. When she's accepted to the elite boarding school Theden Academy, her future happiness seems all the more assured. But once on campus, something feels wrong beneath the polished surface of her prestigious dream school. Then she meets North, a handsome townie who doesn't use Lux, and begins to fall for him and his outsider way of life. Soon, Rory is going against Lux's recommendations, listening instead to the inner voice that everyone has been taught to ignore - a choice that leads her to uncover a truth neither she nor the world ever saw coming.
I'm not really, to be honest. Okay, if this book turns out to be a surprisingly good read, then I'm very excited. I do love surprising reads. But somehow, I think maybe this will end up being like The Here and Now. Boring. Silly. Pointless. But we'll see. The concept, at least, sounds interesting.
What are you currently reading?
Hazel Kaplansky is a firm believer in the pursuit of knowledge and truth - and she also happens to love a good mystery. When suspicions begin to swirl that a Russian spy has infiltrated her small town of Maple Hill, Vermont, amidst the fervor of Cold War era McCarthyism, Hazel knows it's up to her to find a suspect. . . .starting with Mr. Jones, the quietly suspicious grave digger. Plus she's found a perfect sleuthing partner in Samuel Butler, the new boy in school with a few secrets of his own. As Hazel and Samuel piece together clues from the past and present, the truth is suddenly not what they expected, and what they find reveals more about themselves and the people of their cozy little town than they could ever have imagined.
I'm about 50 pages away from being done with this ARC of an upcoming Middle Grade novel (in fact, by the time this goes up, I probably will have finished those 50 pages). If it weren't for the truly awesome personality of Hazel Kaplansky, our protagonist, this would be a rather dull read. But I thoroughly enjoy being inside her head, and most others probably will, too, with her crazy schemes and quickness to see adventure and mystery in everything she encounters. I was never as outgoing as her, but I totally can understand where she's coming from.
What have you read recently?
War has come to Carthya. It knocks at every door and window in the land. And when Jaron learns that King Vargan of Avenia has kidnapped Imogen in a plot to bring Carthya to its knees, Jaron knows it is up to him to embark on a daring rescue mission. But everything that can go wrong does.
His friends are flung far and wide across Carthya and its neighboring lands. In a last-ditch effort to stave off what looks to be a devastating loss for the kingdom, Jaron undertakes what may be his last journey to save everything and everyone he loves. But even with his lightning-quick wit, Jaron cannot forestall the terrible danger that descends on him and his country. Along the way, will he lose what matters most? And in the end, who will sit on Carthya's throne?
The third and final book in The Ascendance Trilogy. I gave this installment 4 out of 5 strawberries - in reality, 4.5 out of 5, but I don't do half ratings. This book tore my heart out and did a merry jig on top of it. Jaron/Sage (I prefer Sage) has been through a bloody lot, and I thought he got quite the pounding in The Runaway King. But seriously; I couldn't believe how badly beat about he was in this one! And he was emotionally broken! I DID NOT LIKE SEEING SAGE EMOTIONALLY BROKEN!!!!!! I didn't cry at all, but there were several moments of gasps, widened eyes, throwing of stuffed hedgehogs (there is a reason I have stuffies, as well as a real hedgehog), and mutterings of, "Jennifer, you did not just do that to my favorite boy king!" It was a terrific ending to the trilogy!
What do you plan on reading next?
From the throne of glass rules a king with a fist of iron and a soul black as pitch. Assassin Celaena Sardothien won a brutal contest to become his Champion. Yet Celaena is far from loyal to the crown. She hides her secret vigilantly; she knows that the man she serves is bent on evil.
Keeping up the deadly charade becomes increasingly difficult when Celaena realizes she is not the only one seeking justice. As she tries to untangle the mysteries buried deep within the glass castle, her closest relationships suffer. It seems no one is above questioning her allegiances - not the Crown Prince Dorian; not Chaol, the Captain of the Guard; not even her best friend, Nehemia, a foreign princess with a rebel heart.
Then one terrible night, the secrets they have all been keeping lead to an unspeakable tragedy. At Celaena's world shatters, she will be forced to give up the very thing most precious to her and decide once and for all where her true loyalties lie. . . .and whom she is ultimately willing to fight for.
Yes, I am going to put myself through the pain of reading the sequel to Throne of Glass next. Why? Because while I found Throne of Glass to be quite horrid, it was a horrid that was also a little too fun to make fun of. So, I'm going to give Crown of Midnight a try and see if it's either just as horrid and as fun to laugh at, or perhaps an improvement (?). Not likely, but one never does know. I'll just try not to twitch every time I read Chaol's name. The things I do for you, my followers.