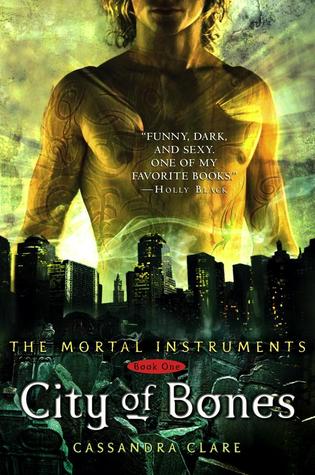 City of Bones by Cassandra Clare
When fifteen-year-old Clary Fray heads out to the Pandemonium Club in New York City, she hardly expects to witness a murder - much less a murder committed by three teenagers covered with strange tattoos and brandishing bizarre weapons. Then the body disappears into thin air. It's hard to call the police when the murderers are invisible to everyone else and when there is nothing - not even a smear of blood - to show that a boy has died. Or was he a boy?
This is Clary's first meeting with the Shadowhunters, warriors dedicated to ridding the earth of demons. It's also her first encounter with Jace, a Shadowhunter who looks a little like an angel and acts a lot like a jerk. Within twenty-hour hours Clary is pulled into Jace's world with a vengeance, when her mother disappears and Clary herself is attacked by a demon. But why would demons be interested in ordinary mundanes like Clary and her mother? And how did Clary suddenly get the Sight? The Shadowhunters would like to know. . . .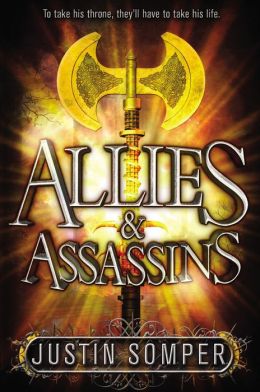 Allies & Assassins by Justin Somper
Prince Andres, the ruler of Archenfield, has been murdered, leaving his younger brother, Jared, to ascend the throne. Sixteen-year-old Jared feels unprepared to rule the kingdom and its powerful and dangerous court, yet he knows he can rely on the twelve officers of the court to advise him. He also knows he can just as easily be at their mercy - especially when it appears that one of them may be responsible for his brother's death. Unable to trust anyone, Jared takes it upon himself to hunt down his brother's killer - but the killer may be hunting him, as well.
The Castle Behind Thorns by Merrie Haskell
When Sand wakes up alone in a long-abandoned castle, he has no idea how he got there. The stories all said the place was ruined by an earthquake, and Sand did not expect to find everything inside - from dishes to candles to apples - torn in half or slashed to bits. Nothing lives here and nothing grows, except the vicious, thorny bramble that prevents Sand from leaving. Why wasn't this in the stories?
To survive, Sand does what he knows best - he fires up the castle's forge to mend what he needs to live. But the things he fixes work somehow better than they ought to. Is there magic in the mending, granted by the saints who once guarded this place?
Unexpectedly, Sand finds the lost heir, Perrotte, a girl who shares the castle's astonishing secrets and dark history. Putting together the pieces - of stone and iron, and of a broken life - is harder than Sand ever imagined, but it's the only way to gain their freedom, even with the help of the guardian saints.
Throne of Glass by Sarah J. Maas
When magic has gone from the world, and a vicious king rules from his throne of glass, an assassin comes to the castle. She does not come to kill, but to win her freedom. If she can defeat twenty-three killers, thieves, and warriors in a competition to find the greatest assassin in the land, she will become the King's Champion and be released from prison.
Her name is Celaena Sardothien.
The Crown Prince will provoke her. The Captain of the Guard will protect her.
And a princess from a foreign land will become the one thing Celaena never thought she'd have again: a friend.
But something evil dwells in the castle - and it's there to kill. When her competitors start dying, horribly, one by one, Celaena's fight for freedom becomes a fight for survival - and a desperate quest to root out the source of the evil before it destroys her world.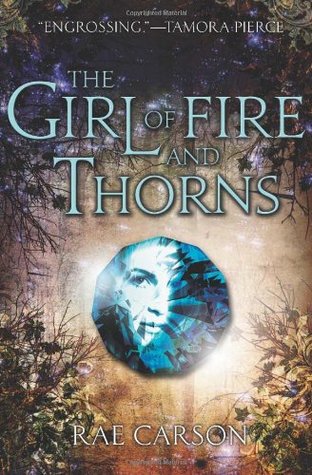 The Girl of Fire and Thorns by Rae Carson
Elisa is the chosen one.
But she is also the younger of two princesses. The one who has never done anything remarkable, and can'ts see how she ever will.
Now, on her sixteenth birthday, she has become the secret wife of a handsome and worldly king - a king whose country is in turmoil. A king who needs her to be the chosen not, not a failure of a princess.
And he's not the only one who seeks her. Savage enemies, seething with dark magic, are hunting her. A daring, determined revolutionary thinks she could be his people's savior, and he looks at her in a way that no man has ever looked at her before. Soon it is not just her life, but her very heart that is at stake.
Elisa could be everything to those who need her most. If the prophecy is fulfilled. If she finds the power deep within herself. If she doesn't die young.
Most of the chosen do.
This Week, On The Reading Hedgehog..........
May 27, 2014 - Tuesday
May 28, 2014 - Wednesday
May 29, 2014 - Thursday
May 30, 2014 - Friday
May 31, 2014 - Saturday
Next Week, On The Reading Hedgehog......
June 2, 2014 - Monday
Review: Monument 14 - Emmy Laybourne
June 3, 2014 - Tuesday
Top Ten Tuesday #47: Top 10 Books In My Beach Bag
Teaser Tuesday #8
June 4, 2014 - Wednesday
Waiting on Wednesday #50 + WWW Wednesday #20
June 5, 2014 - Thursday
Review: Siege and Storm - Leigh Bardugo
June 6, 2014 - Friday
ARC Review: Jackaby - William Ritter
June 7, 2014 - Saturday
Weekend Recommendations #37