BOUGHT
Inland by Kat Rosenfield
After nine years spent suffocating in the arid expanses of the Midwest, far from the sea where her mother drowned, Callie Morgan and her father are returning to the coast. And miraculously, Callie can finally breathe easily. No more sudden, clawing attacks and weeklong hospital stays.
But something is calling to her from the river behind their house and from the ocean miles away. Just as her life begins to feel like her own, and the potential for romance is blossoming, the intoxicating pull of the dark water seeps into her mind, filling her with doubt and revealing family secrets. Is it madness, or is there a voice, beckoning her to come to the sea? To answer the call of the dark waves. To come home.
Ruin and Rising by Leigh Bardugo
The capital has fallen. The Darkling rules Ravka from his shadow throne.
Now the nation's fate rests with a broken Sun Summoner, a disgraced tracker, and the shattered remnants of a once-great magical army.
Deep in an ancient network of tunnels and caverns, a weakened Alina must submit to the dubious protection of the Apparat and the zealots who worship her as a Saint. Yet her plans lie elsewhere, with the hunt for the elusive firebird and the hope that an outlaw prince still survives.
Alina will have to forge new alliances and put aside old rivalries as she and Mal race to find the last of Morozova's amplifiers. But as she begins to unravel the Darkling's secrets, she reveals a past that will forever alter her understanding of the bond they share and the power she wields. The firebird is the one thing that stands between Ravka and destruction - and claiming it could cost Alina the very future she's fighting for.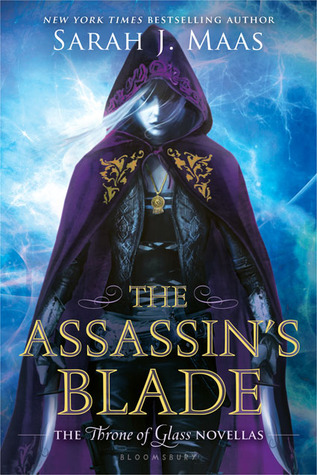 The Assassin's Blade by Sarah J. Maas
Celaena Sardothien is her kingdom's most feared assassin. Though she works for the powerful and ruthless Assassins' Guild, she yields to no one and trusts only her fellow killer-for-hire, Sam.
When Celaena's scheming master, Arobynn Hamel, dispatches her on missions that take her from remote islands to hostile deserts, she finds herself acting independently of his wishes - and questioning her allegiance. Along the way, she makes friends and enemies alike, and discovers that she feels far more for Sam than just friendship. But by defying Arobynn's orders, Celaena risks unimaginable punishment, and with Sam by her side, he is in danger, too. They will have to risk it all if they hope to escape Arobynn's clutches - and if they fail, they'll lose not just a chance at freedom but their lives. . .
Crown of Midnight by Sarah J. Maas
From the throne of glass rules a king with a first of iron and a soul black as pitch. Assassin Celaena Sardothien won a brutal contest to become his Champion. Yet Celaena is far from loyal to the crown. She hides her secret vigilantly; she knows that the man she serves is bent on evil.
Keeping up the deadly charade becomes increasingly difficult when Celaena realizes she is not the only one seeking justice. As she tries to untangle the mysteries buried deep within the glass castle, her closest relationships suffer. It seems no one is above questioning her allegiance - not the Crown Prince Dorian; not Chaol, the Captain of the Guard; not even her best friend, Nehemia, a foreign princess with a rebel heart.
Then, one terrible night, the secrets they have all been keeping lead to an unspeakable tragedy. As Celaena's world shatters, she will be forced to give up the very thing most precious to her and decide once and more all where her true loyalties lie. . . .and to whom she is ultimately willing to fight for.
I Hunt Killers by Barry Lyga
Jazz is a likable teenager. A charmer, some might say.
But he's also the son of the world's most infamous serial killer, and for Dear Old Dad, "Take Your Son to Work Day" was year-round. Jazz has witnessed crime scenes the way cops wish they could - form the criminal's point of view.
And now, even though Dad has been in jail for years, bodies are piling up in the sleepy town of Lobo's Nod. Again.
In an effort to prove murder doesn't run in the family, Jazz joins the police in the hunt for this new serial killer. But Jazz has a secret - could he be more like his father than anyone knows?
The Stepsister's Tale by Tracy Barrett
Jane Montjoy is tired of being a lady. She's tired of pretending to live up to the standards of her mother's noble family - especially now that the family's wealth is gone and their stately mansion has fallen to ruin. It's hard enough that she must tend to the animals and find a way to feed her mother and her little sister each day. Jane's burden only gets worse after her mother returns from a trip to town with a new stepfather and stepsister in tow. Despite the family's struggle to prepare for the long winter ahead, Jane's stepfather remains determined to give his beautiful but spoiled child her every desire.
When her stepfather suddenly dies, leaving nothing but debts and a bereaved daughter behind, it seems to Jane that her family is destined for eternal unhappiness. But a mysterious boy from the woods and an invitation to a royal ball are certain to change her fate. . . .
Beth's Story, 1914
Meet Lady Beth of of Chatswood Manor, a grand English country estate with more rooms than you can count and more secrets than you can imagine. Lady Beth is about to celebrate a very special birthday and receive the heirloom Elizbaeth necklace that has been handed down from her great-grandmother, the original Elizabeth Chatswood. But then a scandal breaks out inside the manor that threatens to ruin Beth's birthday celebration . . . and the first of many family secrets is revealed.
This Week, On The Reading Hedgehog........
June 16, 2014 - Monday
June 17, 2014 - Tuesday
June 18, 2014 - Wednesday
June 19, 2014 - Thursday
June 20, 2014 - Friday
June 21, 2014 - Saturday
Next Week, On The Reading Hedgehog...........
June 23, 2014 - Monday
Author Visit: Leigh Bardugo, Emmy Laybourne, Ava Dellaira, Jennifer Mathieu
June 24, 2014 - Tuesday
Top Ten Tuesday #50: Top 10 Cover Trends I Like/Dislike
Teaser Tuesday #11
June 25, 2014
Waiting on Wednesday #52 + WWW Wednesday #22
June 26, 2014 - Thursday
Review: The Truth About Alice - Jennifer Mathieu
June 27, 2014 - Friday
Review: The Mirk and Midnight Hour - Jane Nickerson
June 28, 2014 - Saturday
Guest Post: Interpreting Love Triangles