Waiting on Wednesday is hosted by
Breaking the Spine
.
It's a weekly meme about upcoming books we're excited about!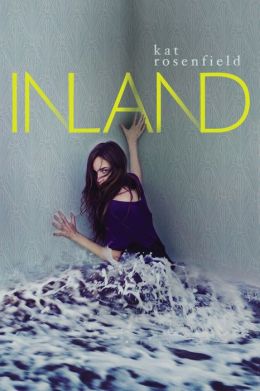 by Kat Rosenfield
Publication Date: June 12, 2014
From Goodreads:
Callie Morgan has long lived choked by the failure of her own lungs, the result of an elusive pulmonary illness that has plagued her since childhood. A childhood marked early by the drowning death of her mother - a death to which Callie was the sole witness. Her father has moved them inland, away from the memories of the California coast her mother loved so much and toward promises of recovery - and the escape of denial - in arid, landlocked air.
But after years of running away, the promise of a life-changing job for her father brings Callie and him back to the coast, to Florida, where Callie's symptoms miraculously disappear. For once, life seems delightfully normal. But the ocean's edge offers more than healing air . . . . it holds a magnetic pull, drawing Callie closer and closer to the chilly, watery embrace that claimed her mother. Returned to the ocean, Callie comes of age and comes into a family destiny that holds generations of secrets and very few happy endings.
Why I'm Excited
I'm pretty sure I've already figured out the "twist" (mermaids!), but I'm still excited about this book. It sounds very intriguing - and if it is mermaids, all the more reason to read it!
(The Grisha #3)
by Leigh Bardugo
Publication Date: June 17, 2014
From Goodreads:
The capital has fallen. The Darkling rules Ravka from his shadow throne.
Now the nation's fate rests with a broken Sun Summoner, a disgraced tracker, and the shattered remnants of a once-great magical army.
Deep in an ancient network of tunnels and caverns, a weakened Alina must submit to the dubious protection of Apparat and the zealots who worship her as a Saint. Yet her plans lie elsewhere, with the hunt for the elusive firebird and the hope that an outlaw prince still survives.
Alina will have to forge new alliances and put aside old rivalries as she and Mal race to find the last of Morozova's amplifiers. But as she begins to unravel the Darkling's secrets, she reveals a past that will forever alter her understanding of the bond they share and the power she wields. The firebird is the one thing that stands between Ravka and destruction - and claiming it could cost Alina the very future she's fighting for.
Why I'm Excited
Because it's the third book in The Grisha trilogy! And I must find out what happens next! This is the most anticipated book of June for me, and I just want to scream!
What are you currently reading?
Trapped in a superstore by a series of escalating disasters, including a monster hailstorm and terrifying chemical weapons spill, brothers Dean and Alex learned how to survive while working together with twelve other kids to build a refuge from the chaos. But then strangers appeared, destroying their fragile peace, and bringing both fresh disaster and a glimmer of hope.
Knowing that the chemical weapons saturating the air outside will turn him into a bloodthirsty rage monster, Dean decides to stay in the safety of the store with his longtime crush Astrid and some of the younger kids. But their sanctuary has already been breached once. . . .
Meanwhile, Alex, determined to find their parents, heads out into the darkness and devastation with their leader, Niko, and the rest of the kids in a recently repaired school bus. If they can get to Denver International Airport, they might be evacuated to safety. But the outside world is even worse than they expected. . . .
Book #2 in the Monument 14 trilogy. I'm enjoyed it more than the first book - in some ways. In other ways, it's taking a long time bringing in the action. Rather, several things have happened, but none of it lasts very long. Dean spends even more time battening down the hatches to the superstore and pining after Astrid, who just treats him like dirt. I desperately want some of the kiddies to die; they are sooooo annoying. Especially Chloe. But it's a short book, so I'm not minding it too much.
What have you recently read?
Boston, 1891. Sophia Tims comes from a family of explorers and cartologers who, for generations, have been traveling and mapping the New World - a world changed by the Great Disruption of 1799, when all the continents were flung into different time periods. Eight years ago, her parents left her with her uncle Shadrack, the foremost cartologer in Boston, and went on an urgent mission. They never returned. Life with her brilliant, absent-minded, adored uncle has taught Sophia to take care of herself.
Then Shadrack is kidnapped. And Sophia, who has rarely been outside of Boston, is the only one who can search for him. Together with Theo, a refugee from the West, she travels over rough terrain and uncharted ocean, encounters pirates and traders, and relies on a combination of Shadrack's maps, common sense, and her own slantwise powers of observation. But even a Sophia and Theo try to save Shadrack's life, they are in danger of losing their own.
This is the first book in a planned trilogy - The Mapmakers Trilogy - and it's awesome. I gave it 4/5 strawberries. It's weird, with each continent having been flung into separate time periods, and it didn't always make sense, but I really enjoyed exploring this bizarre world, and I look forward to more of it! The characters were all very good, and there was a lot of peril.
What do you plan on reading next?
Everyone knows Alice slept with two guys at one party. When Healy High star quarterback, Brandon Fitzsimmons, dies in a car crash, it was because he was sexting with Alice. Ask
anybody
. Rumor has it Alice Franklin is a slut. It's written all over the "slut stall" in the girls' bathroom: "Alice had sex in exchange for math test answers" and "Alice got an abortion last semester." After Brandon dies, the rumors start to spiral out of control. In this remarkable debut novel, for Healy High students tell all they "know" about Alice - and in doing so reveal their own secrets and motivations, painting a raw look at the realities of teen life. But in this novel from Jennifer Mathieu, exactly what is the truth about Alice? In the end there's only one person to ask: Alice herself.
I'm meeting her on June 19! Don't know if I'm going to like this book much, but it's short and maybe it will have an interesting ending. So we'll see!