Waiting on Wednesday is hosted by
Breaking the Spine
.
It's a weekly meme about upcoming books we're excited about!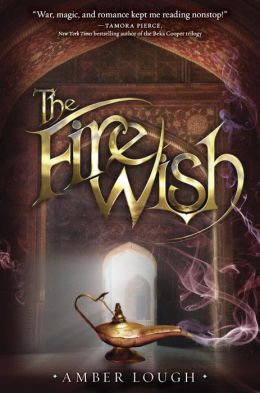 (The Jinni Wars #1)
by Amber Lough
Publication Date: July 22, 2014
From Goodreads:
A jinni. A princess. And the wish that changes everything. . . .
Najwa is a jinni, training to be a spy in the war against the humans. Zayele is a human on her way to marry a prince of Baghdad - which she'll do anything to avoid. So she captures Najwa and makes a wish. With a rush of smoke and fire, they fall apart and re-form - as each other. A jinni and a human, trading lives. Both girls must play their parts among enemies who would kill them if the deception were ever discovered - enemies including the young men Najwa and Zayele are just discovering they might love.
Why I'm Excited
It's about the djinn! I've always loved stories about the djinn. And this one sounds awesome. It's not often that we have two female protagonists. In fact, I'm rather surprised that the jinni isn't a young man whom Zayele falls in love with. I'm not complaining - I like this new change!
One Past Midnight
by Jessica Shirvington
Publication Date: July 22, 2014
From Goodreads:
Above all else, though I try not to think about it, I know which life I prefer. And every time when I Cinderella myself from one life to the next a very small, but definite, piece of me dies. The hardest part is that nothing about my situation has ever changed. There is no loophole.
Until now, that is. . . .
For as long as she can remember, Sabine has lived two lives. Every 24 hours she Shifts to her 'other' life - a life where she is exactly the same, but absolutely everything else is different: different family, different friends, different social expectations. In one life she has a sister, in the other she does not. In one life she's a straight-A student with the perfect boyfriend, in the other she's considered a reckless delinquent. Nothing about her situation has ever changed, until the day when she discovers a glitch: the arm she breaks in one life is perfectly fine in the other.
With this new knowledge, Sabine begins a series of increasingly risky experiments which bring her dangerously close to the life she's always wanted. . . .But just what - and who - is she really risking?
Why I'm Excited
It just sounds super interesting. Doesn't it? Maybe it's just me. It sounds weird, and it probably won't make much sense, but it still intrigues me.
What are you currently reading?
London is a whirl of balls and teas, alliances and rivalries. Rose has never felt more out of place. With the Season in full swing, she can't help but still feel a servant dressed up in diamonds and silk. Then Rose meets Alexander Ross, a young Scottish duke. Rose has heard the rumors about Ross's sordid past just like everyone else has. Yet he alone treats her as a friend. Rose knows better than to give her heart to an aristocrat with such a reputation, but it may be too late.
Ada should be happy. She is engaged to a handsome man who shares her political passions and has promised to support her education. So why does she feel hollow inside? Even if she hated Lord Fintan, she would have no choice but to go through with the marriage. Every day a new credit collector knocks on the door of their London flat, demanding payment for her cousin William's expenditures. Her father's heir seems determined to bring her family to ruin, and only a brilliant marriage can save Somerton Court and the Averleys' reputation.
Meanwhile, at Somerton, Sebastian is out of his mind with worry for his former valet Oliver, who refuses to plead innocent to the murder charges against him - for a death caused by Sebastian himself. Sebastian will do whatever he can to help the boy he loves, but his indiscretion is dangerous fodder for a reporter with sharp eyes and dishonorable intentions.
I'm about halfway through with this second book in the At Somerton series, and I'm enjoying it as much as I enjoyed the first. Yes, it has a ton of similarities to Downton Abbey - so much so that it makes me a little irked. But it's still a lot of fun, and there are some characters I can fully like, even amid the scandal and silliness.
What have you recently read?
Jackie was an average kid growing up in a Finnish household in Niagara Falls, Canada in the late 1930's and early 1940's. He had two older brothers, Eric, who picked on him, Armie, who was great at building forts and battle games, and an older sister called Liisa, who was a bit too keen on "schooling" him.
In this true story, you can join Jackie on his adventures as he deals with the pains of growing up, from the terrors of the school nurse to the pangs of his first crush, with a good few snowball fights thrown in for good measure. Well, after all, it is Canada - the land of ice and snow!
I was asked by the Author to review this book, and I gave it 1 out of 5 strawberries. Initially, it started out okay. A young boy's life story about how he grew up in Canada during the 30's and 40's - I usually enjoy stories like that. However, when writing a book like that one must have an engaging writing style. This book didn't, and it was also poorly edited. On top of that, it was just boring. Nothing of very great interest happened in Jackie's life, and this could have been tolerated if there had been a good writing style. The dialogue was stilted, the Author spent way too long describing things like how to make a snowball and devoting entire chapters to a very dull moment-by-moment Wolf Cub hiking trip. There were also a few parts that were rather disturbing.
What do you plan on reading next?
It's senior year at St. Joan's Academy, and school is a pressure cooker. College applications, the battle for valedictorian, deciphering boys' texts: Through it all, Colleen Rowley and her friends are expected to keep it together. Until they can't.
First it's the school's queen bee, Clara Rutherford, who suddenly falls into uncontrollable tics in the middle of class. Her mystery illness quickly spreads to her closest clique of friends, then more students and symptoms follow: seizures, hair loss, violent coughing fits. St. Joan's buzzes with rumor; rumor blossoms into full-blown panic.
Soon the media descends on Danvers, Massachusetts, as everyone scrambles to find something, or someone, to blame. Pollution? Stress? Or are the girls faking? Only Colleen - who's been reading The Crucible for extra credit - comes to realize what nobody else has: Danvers was once Salem Village, where another group of girls suffered from a similarly bizarre epidemic three centuries ago. . . .
This is an ARC I should have gotten to earlier, but didn't have the time to. Nevertheless, I'm getting to it now! It sounds really interesting. Call me weird, but the Salem Witch Trials have always fascinated me, and any book having to even loosely do with that - and witchy stuff in general - I tend to find interesting.