This week's topic?
Top 10 Authors I Own the Most Books From
. For this one, I was going to do a video, but I was too lazy and didn't feel like it. So, this will be pretty boring - it's just a list. Sorry!
Lemony Snicket - He clocks in at 18 books, and that's not counting the kid picture books of his I own. I was a little surprised, actually, that he was at No. 1. I know I have all of his books, but I thought another specific author would beat him out. And that author is. . . .
John Flanagan - Clocking in at 16 books. So he isn't No. 1, but No. 2. I can live with that. I own all of his books, and though I don't like all of his books equally, I will always buy his books.
Anthony Horowitz - 12 books. And this number will only increase, as I collect more and more of his series.
Caroline Lawrence - Also clocking in at 12 books. And when I get a chance, I will buy the rest of her books.
Charles Dickens - Another clocking in at 12. I think I'm only missing 3 of his books, then I'll have them all. :)
Cornelia Funke - 9 books! And another author who I will always collect.
Rick Riordan - 9 books. I am missing The Lighting Thief, The Sea of Monsters, and The Lost Hero. Sad, I know. I'm working on it!
K. M. Grant - 7 books. I am only missing one book, and it's sadly not published in the U.S. :(
Gail Carson Levine - 6 books. I also have all of her books, except the little mini princess retellings - and I will eventually get those.
Jane Austen - Also clocking in at 6. I am very proud of my Jane Austen collection.
- Grab the book you're currently reading.
- Flip to a random page.
- Share 2 teaser sentences from that page!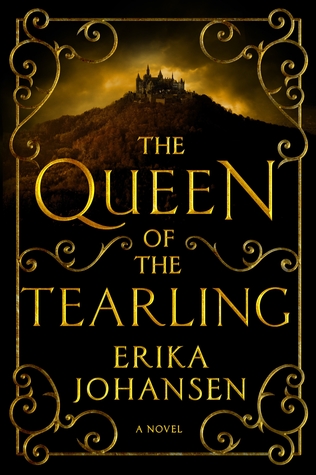 The assassin tugged at the sapphire pendant between her breasts, but the chain refused to give. He pulled harder and the chain bit into the back of Kelsea's neck. Kelsea stiffened, fury blooming from nowhere. It was a gift; her fear melted quickly and silently away. She could feel the sapphire now, a throbbing pressure that burned like a pulse inside her mind. With every jerk on the chain, Kelsea became angrier. The sapphire didn't want to be removed.
The Queen of the Tearling by Erika Johansen (pg. 261)