FROM THE LIBRARY
Love by the Morning Star by Laura L. Sullivan
On the brink of World War II, two girls are sent to the grand English country estate of Starkers. Hannah, the half-Jewish daughter of a disgraced distant relative, has been living an artistic bohemian life in a cabaret in pre-war Germany and now is supposed to be welcomed into the family. Anna, the social-climbing daughter of working-class British fascists, is supposed to be hired as a maid so that she can spy for the Nazis. But there's a mix-up, and nice Hannah is sent to the kitchen as a maid while arrogant Anna is welcomed as a relative.
And then both girls fall for the same man, the handsome heir of the estate. . . .or do they?
BOUGHT
The Time of the Fireflies by Kimberley Griffiths Little
When Larissa Renaud starts receiving eerie phone calls in a disconnected old phone in her family's antique shop, she just knows she's in for a strange summer. A series of clues leads her to the muddy riverbank, where clouds of fireflies dance among the cypress trees and cattails each evening at twilight.
The fireflies are beautiful and mysterious and they take Larissa on a magical journey through time, where she learns the secrets of her family's tragic past - deadly, curse-ridden secrets that could endanger the future of her family as she knows it. And when her mother suddenly disappears, it becomes clear that it is up to Larissa to prevent history from repeating itself, and a fatal tragedy from striking the people she loves.
Beyond the Grave by Jude Watson
Betrayed by their cousins, abandoned by their uncle, and with only the slimmest hint to guide them, fourteen-year-old Amy Cahill and her younger brother, Dan, rush off to Egypt on the hunt for 39 Clues that lead to a source to an unimaginable power. But when they arrive, Amy and Dan get something completely unexpected - a message from their dead grandmother, Grace. Did Grace set out to help the two orphans. . . .or are Amy and Dan heading for the most devastating betrayal of them all?
Bird by Crystal Chan
Jewel never knew her brother, Bird, but all her life she has lived in his shadow. She lives in a house drenched in silence. Filled with secrets. Then one night, a boy in a tree changes everything. . . .
Ophelia and the Marvelous Boy by Karen Foxlee
Ophelia Jane Worthington-Whittard doesn't believe in anything that can't be proven by science. She and her sister, Alice, are still grieving for their mother when their father takes a job in a strange museum in a city where it never stops snowing. On her very first day exploring the museum, Ophelia discovers a boy locked away in a forgotten room. He is a prisoner of Her Majesty, the Snow Queen. And he has been waiting a long time for Ophelia's help.
As Ophelia embarks on an incredible adventure to rescue the boy, everything she believes is tested. Along the way she learns more and more about the boy's own remarkable journey to reach her and save the world.
Say What You Will by Cammie McGovern
Amy and Matthew didn't know each other, really. They weren't friends. Matthew remembered her, sure, but he remembered a lot of people from elementary school that he wasn't friends with now.
Matthew never planned to tell Amy what he thought of her cheerful facade, but after he does, Amy realizes she needs someone like him in her life.
As they begin to spend more time with each other, Amy learns that Matthew has his own secrets and she decides to try to help him in the same way he's helped her. And when what started out as a friendship turns into something neither of them expected, they realize that they tell each other everything - except the one thing that matters most.
Game by Barry Lyga
Several months have passed since Jazz helped the Lobo's Nod police force catch the serial killer known as the Impressionist. Every day since then, Jazz has dealt with the guilt of knowing he was responsible for his father's escape from prison. Now Billy Dent is on the loose, ready to kill again.
Jazz's reputation has spread far beyond the borders of his sleepy hometown, and when a determined New York City detective comes knocking on Jazz's door asking for help with a new case, Jazz can't say no. The Hat-Dog Killer has the Big Apple in a panic, and the police are running scared.
Jazz has already solved one crime, but a high cost. Innocent people were murdered because of him. Is the Hat-Dog Killer his means of redemption? Or will Jazz get caught up in a killer's murderous game?
And somewhere out there, Billy is watching. . . .and waiting.
The Secret of Shadow Ranch by Carolyn Keene
Nancy Drew arrives in Phoenix, Arizona, eagerly looking forward to a fun-filled vacation at Shadow Ranch, but abruptly finds herself involved in a baffling mystery. The ranch is being haunted by a phantom horse and maliciously damaged by an unknown enemy. Local people believe that the ghostly animal is carrying out the curse of Dirk Valentine, the romantic outlaw who was killed many years ago at Shadow Ranch, where he had gone to fulfill a promise to his sweetheart.
Suspecting that a treasure hidden by Valentine may be at the root of the Shadow Ranch mystery, Nancy undertakes a challenging search, aided by her friends Bess Marvin and George Fayne. The first vital clue is found in an antique watch and sparks a series of clever deductions and dangerous developments. While seeking further clues, the girls' investigation in a ghost town ends in near disaster when Nancy is trapped inside a building that is toppled by a rockslide - a rockslide which is deliberately caused. But the pretty titian-haired detective remains undaunted in her determination to solve the mystery.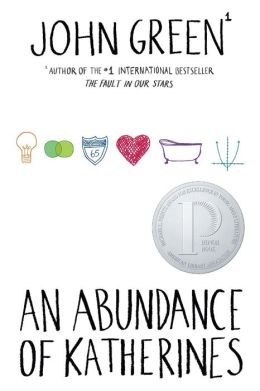 An Abundance of Katherines by John Green
Katherine V thought boys were gross. Katherine X just wanted to be friend. Katherine XVIII dumped him in an e-mail. K-19 broke his heart.
When it comes to relationships, Colin Singleton's type happens to be girls named Katherine. And when it comes to girls named Katherine, Colin is always getting dumped. Nineteen times, to be exact.
On a road trip miles from home, this anagram-happy, washed-up child prodigy has ten thousand dollars in his pocket, a bloodthirsty feral hog on his trail, and an overweight, Judge Judy-loving best friend riding shotgun - but no Katherines. Colin is on a mission to prove The Theorem of Underlying Katherine Predictability, which he hopes will predict the future of any relationship avenge Dumpees everywhere, and finally win him the girl.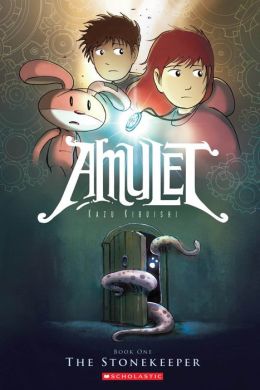 The Stonekeeper by Kazu Kibuishi
After a family tragedy, Emily, Navin, and their mother move to an ancestral home to start a new life. On the family's very first night in the mysterious house, Em and Navin's mom is kidnapped by a tentacled creature. Now it's up to Em and Navin to figure out how to set things right and save their mother's life!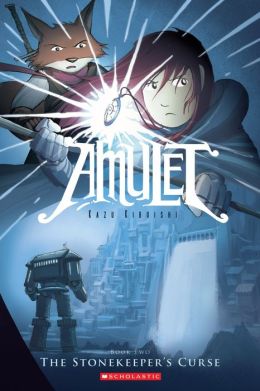 The Stonekeeper's Curse by Kazu Kibuishi
This Week, On The Reading Hedgehog.........
July 21, 2014 - Monday
July 22, 2014 - Tuesday
July 23, 2014 - Wednesday
July 24, 2014 - Thursday
July 25, 2014 - Friday
July 26, 2014 - Saturday
Next Week, On The Reading Hedgehog...........
July 28, 2014 - Monday
ARC Review: Conversion - Katherine Howe
July 29, 2014 - Tuesday
Top Ten Tuesday #55: 10 Authors I Own the Most Books From
Teaser Tuesday #16
July 30, 2014 - Wednesday
July Book Haul
July 31, 2014 - Thursday
Hedgie's Must Reads: July 2014
August 1, 2014 - Friday
Review: The Warrior Heir - Cinda Williams Chima
August 2, 2014 - Saturday
Weekend Recommendations #38