Waiting on Wednesday is hosted by
Breaking the Spine
.
It's a weekly meme about upcoming books we're excited about!
by Alethea Kontis
(Woodcutter Sisters #3)
Publication Date: February 3, 2015
From Goodreads:
Readers met the Woodcutter sisters (named after the days of the week) in Enchanted and Hero. In this delightful third book, Alethea Kontis weaves together some fine-feathered fairy tales to focus on Friday Woodcutter, the kind and loving seamstress. When Friday stumbles upon seven sleeping brothers in her sister Sunday's palace, she takes one look at Tristan and knows he's her future. But the brothers are cursed to be swans by day. Can Friday's unique magic somehow break the spell?
Why I'm Excited
- It's the third Woodcutter Sisters novel!
- It's a retelling of The Wild Swans and Swan Lake!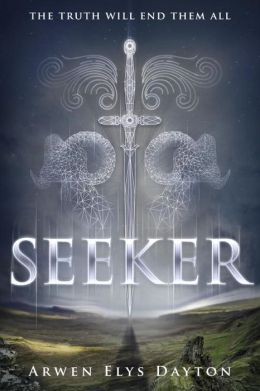 by Arwen Elys Dayton
(Seeker #1)
Publication Date: February 10, 2015
From Goodreads:
Quin Kincaid had been put through years of brutal training for what she thinks is the noble purpose of becoming a revered 'Seeker.'
Only when it's too late does she discover she will be using her new-found knowledge and training to become an assassin. Quin's new role will take her around the globe, from a remote estate in Scotland to a bustling, futuristic Hong Kong where the past she thought she had escaped will finally catch up with her.
Why I'm Excited
- It sounds awesome!!
- And also weird.
- But awesome!
What are you currently reading?
Days after Holmes and Moriarty disappear into the waterfall's churning depths, Frederick Chase, a senior investigator at New York's infamous Pinkerton Detective Agency, arrives in Switzerland. Chase brings with him a dire warning: Moriarty's death has left a convenient vacancy in London's criminal underworld. There is no shortage of candidates to take his place - including one particularly fiendish criminal mastermind.
Chase is assisted by Inspector Athelney Jones, a Scotland Yard detective and devoted student of Holmes's methods of deduction, whom Conan Doyle introduced in The Sign of Four. The two men join forces and fight their way through the sinuous streets of Victorian London - from the elegant squares of Mayfair to the shadowy wharfs and alleyways of the Docks - in pursuit of this sinister figure, a man much feared but seldom seen, who is determined to stake his claim as Moriarty's successor.
Twenty pages in and I am loving it!! Anthony Horowitz is incredible; he has the tone and characters of Conan Doyle so completely down. I feel like I'm reading an original!
What have you recently read?
A beautiful Kirkassi girl, cold-eyed villains and smiling killers, a bazaar merchant peddling slightly used dreams - could any young adventurer ask for more? Not Carlo Chuchio, who is seeking hidden treasure on the legendary Road of Golden Dreams.
With Baksheesh, the world's worst camel-puller, Carlo leads a caravan through the realm of Keshavar. Robbed of all but his underdrawers, mistaken for a mighty warrior and then for a crown prince, Carlo risks his life for a prize that may not even exist.
I read this a long, long, long time ago. Actually, it might have been my very first Lloyd Alexander book. And even now, I still love it: 4 out of 5 strawberries all the way. The characters are just so awesome, and the humor, and the adventure. It's great!
What do you plan on reading next?
Castle Glower has been acting weird, so it's no surprise when two towers transport Celie and her siblings to an unknown land. When they realize that no one from home is coming to get them, the kids - along with Celie's pet griffin Rufus - set out through the forest to figure out where they are and what's happened to their beloved Castle. Instead, they discover two wizards and an entire lost people, the oldest inhabitants of Castle Glower. And it seems they may know more of the Castle's secrets than Celie. But do they know how to get her back home?
The third book in the Castle Glower series! I can't wait to see what happens next to Celie and her siblings!