BOUGHT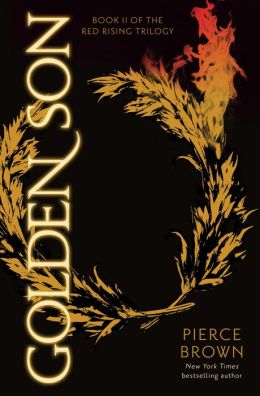 Golden Son by Pierce Brown
As a Red, Darrow grew up working the mines deep beneath the surface of Mars, enduring backbreaking labor while dreaming of the better future he was building for his descendants. But the Society he faithfully served was built on lies. Darrow's kind have been betrayed and denied by their elitist masters, the Golds - and their only path to liberation is revolution. And so Darrow sacrifices himself in the name of the greater good for which Eo, his true love and inspiration, laid down her own life. He becomes a Gold, infiltrating their privileged realm so that he can destroy it from within.
A lamb among wolves in a cruel world, Darrow finds friendship, respect, and even love - but also the wrath of powerful rivals. To wage and win the war that will change humankind's destiny, Darrow must confront the treachery arrayed against him, overcome his all-too-human desire for retribution - and strive not for violent revolt but a hopeful rebirth. Though the road ahead is fraught with danger and deceit, Darrow must choose to follow Eo's principles of love and justice to free his people.
He must live for more.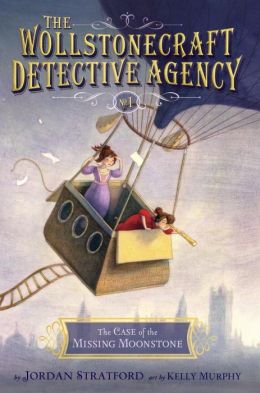 The Case of the Missing Moonstone by Jordan Stratford
Lady Ada Byron, age eleven, is a genius. She's also isolated, awkward, and a bit rude. But a genius.
Mary Godwin, age fourteen, is a romantic. She's also adventurous and kind, and has a talent for noticing things. And she is soon to become Ada's first true friend.
Together, they form the Wollstonecraft Detective Agency. It's a secret constabulary because they suspect clients would not trust their problems to two young girls. (And because it would be better if their parents didn't find out. . . .)
They may look innocent, but in order to solve the case of a stolen heirloom, these two girls will break into (and then out of) Newgate Prison, dodge suspicious men wearing fezzes, tell a few smallish lies, and pursue the thief by both carriage and hot-air balloon.
Clever criminals of London, beware!
This Week, On The Reading Hedgehog......
January 12, 2015 - Monday
January 13, 2015 - Tuesday
January 14, 2015 - Wednesday
January 15, 2015 - Thursday
January 16, 2015 - Friday
January 17, 2015 - Saturday
Next Week, On The Reading Hedgehog.......
January 19, 2015 - Monday
ARC Review: All the Bright Places - Jennifer Niven
January 20, 2015 - Tuesday
Top Ten Tuesday #73: FREEBIE
Teaser Tuesday #34
January 21, 2015 - Wednesday
Waiting on Wednesday #75 + WWW Wednesday #45
January 22, 2015 - Thursday
Review: Ticker - Lisa Mantchev
January 23, 2015 - Friday
Review: Midnight Thief - Livia Blackburne
January 24, 2015 - Saturday
Guest Post: Reader Problems