Waiting on Wednesday is hosted by
Breaking the Spine
.
It's a weekly meme about upcoming books we're excited about!
by Andrew Harwell
Publication Date: January 27, 2015
From Goodreads:
When Maria inherits a strange, spider-shaped ring from her grandmother, she doesn't realize she's also inheriting a strange power - the power to control spiders and have them do whatever she wants. This is a pretty cool thing when it comes to fetching objects from another room. . . .or if Maria wants to use the spiders to get back at some mean kids in her class.
But the power comes with a price. Maria has attracted the attention of the Black Widow - who is trying to collect all the spider magic for herself. The Black Widow is not going to let anything stand in her way - especially not Maria.
The story of the ring is being woven like a web - and Maria is going to have to do everything she can to not get trapped within it.
Why I'm Excited
- A magic ring that controls spiders? Awesome!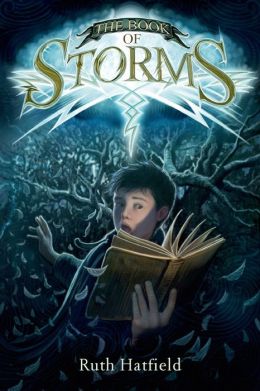 by Ruth Hatfield
Publication Date: January 27, 2015
From Goodreads:
Eleven-year-old Danny O'Neill has never been what you'd call adventurous. But when he wakes the morning after a storm to find his house empty, his parents gone, and himself able to hear the thoughts of a dying tree, he has no choice but to set out to find answers. He soon learns that the enigmatic Book of Storms holds the key to what he seeks. . . .but unraveling its mysteries won't be easy. If he wants to find his family, he'll have to face his worst fears and battle terrifyingly powerful enemies, including the demonic Sammael himself.
Why I'm Excited
- It's Middle Grade fantasy!
- Magical books!
- Kidnapped families!
What are you currently reading?
When Penny Farthing nearly dies, brilliant surgeon Calvin Warwick manages to implant a brass "Ticker" in her chest, transforming her into the first of the Augmented. But soon it's discovered that Warwick killed dozens of people as he strove to perfect another improved Ticker for Penny, and he's put on trial for mass murder.
On the last day of Warwick's trial, the Farthings' factory is bombed, Penny's parents disappear, and Penny and her brother, Nic, receive a ransom note demanding all of their Augmentation research if they want to see their parents again. Is someone trying to destroy the Farthings. . . .or is the motive more sinister?
Desperate to reunite their family and rescue their research, Penny and her brother recruit fiery baker Violet Nesselrode, gentleman-about-town Sebastian Stirling, and Marcus Kingsley, a young army general who has his own reasons for wanting to lift the veil between this world and the next. Wagers are placed, friends are lost, romance stages an ambush, and time is running out for the girl with the clockwork heart.
I'm not very far in - just started it - but I'm already in love with the steampunk world and the snappy characters. So awesome! This is exactly what I need after reading some rather depressing contemporary!
What did you recently read?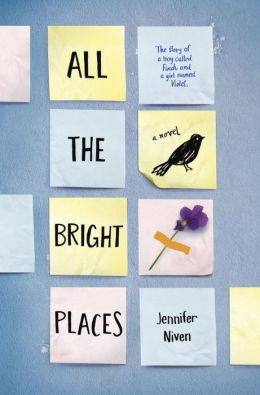 Theodore Finch
is fascinated by death, and he constantly thinks of ways he might kill himself. But each time, something good, no matter how small, stops him.
Violet Markey
lives for the future, counting the days until graduation, when she can escape her Indiana town and her aching grief in the wake of her sister's recent death.
When Finch and Violet meet on the ledge of the bell tower at school, it's unclear who saves whom. And when they pair up on a project to discover the "natural wonders" of their state, both Finch and Violet make more important discovers: It's only with Violet that Finch can be himself - a weird, funny, live-out-loud guy who's not such a freak after all. And it's only with Finch that Violet can forget to count away the days and start living them. But as Violet's world grows, Finch's begins to shrink.
I'm still not sure how I feel about this book, but for now I've given it 2 out of 5 strawberries. In general, I liked it, and it's given me a hankering for roadtrip fiction. I didn't necessarily dislike either Violet or Finch. I liked Violet pretty well, and I felt sorry and sympathized with Finch. And I totally saw the ending coming. But it lessen how depressing it was - or how it left me thinking, What was the point?
What do you plan on reading next?
Growing in on Forge's streets has taught Kyra how to stretch a coin. And when that's not enough, her uncanny ability to scale walls and bypass guards helps her take what she needs.
But when the leader of the Assassins Guild offers Kyra a lucrative job, she hesitates. She knows how to get by on her own, and she's not sure she wants to play by his rules. But he's persistent - and darkly attractive - and Kyra can't quite resist his pull.
Tristam of Brancel is a young Palace knight on a mission. After his best friend is brutally murdered by Demon Riders, a clan of vicious warriors who ride bloodthirsty wildcats, Tristam vows to take them down. But as his investigation deepens, he finds his efforts thwarted by a talented thief, one who sneaks past Palace defenses with uncanny ease.
When a fateful raid throws Kyra and Tristam together, the two enemies realize that their best chance at survival - and vengeance - might be to join forces. And as their loyalties are tested to the breaking point, they learn a startling secret about Kyra's past that threatens to reshape both their lives.
Finally!! I get to read Midnight Thief!!