Let's Get Lost by Adi Alsaid
Four teens across the country have only one thing in common: a girl named LEILA. She crashes into their lives in her absurdly red car at the moment they need someone the most.
There's HUDSON, a small-town mechanic who is willing to throw away his dreams for true love. And BREE, a runaway who seizes every Tuesday - and a few stolen goods along the way. ELLIOT believes in happy endings. . . .until his own life goes off-script. And SONIA worries that when she lost her boyfriend, she also lost the ability to love.
Hudson, Bree, Elliot, and Sonia find a friend in Leila. And when Leila leaves them, their lives are forever changed. But it is during Leila's own 4,268-mile journey that she discovers the most important truth - sometimes, what you need most is right where you started. And maybe the only way to find what you're looking for is to get lost along the way.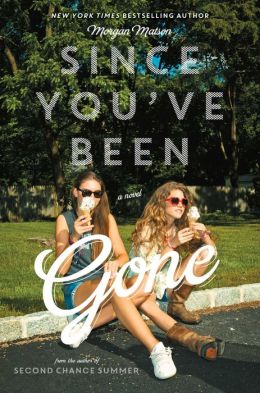 Since You've Been Gone by Morgan Matson
It was Sloane who yanked Emily out of her shell and made life 100% interesting. But right before what should have been the most epic summer, Sloane just. . . .disappears. All she leaves behind is a to-do list.
On it, thirteen Sloane-inspired tasks that Emily would normally never try. But what if they could bring her best friend back?
Apple picking at night?
Okay, easy enough.
Dance until dawn?
Sure. Why not?
Kiss a stranger?
Um. . . .
Emily now has this unexpected summer, and the help of Frank Porter (totally unexpected), to check things off Sloane's list. Who knows what she'll find?
Go skinny-dipping?
Wait. . . .what?
Alistair Grim's Odditorium by Gregory Funaro
Grubb, age twelve (or thereabouts), has never known anything beyond his miserable existence as a chimney sweep, paid only in insults and abuse by his cruel master.
All of that changes the day he stows away in the coach belonging to a mysterious guest at the inn where he works. Grubb emerges from Alistair Grim's trunk and into the wondrous world of the Odditorium. Fueled by a glowing blue energy that Grubb can only begin to understand, the Odditorium is home to countless enchanted objects and an eccentric crew that embraces Grubb as one of its own.
There's no time for Grubb to settle into his new role as apprentice to the strange, secretive Mr. Grim. When the Odditorium comes under attack, Grubb is whisked off on a perilous adventure. Only he can prevent the Odditorium's magic from falling into evil hands - and his new family from suffering a terrible fate.
Grubb knows he's no hero. He's just a chimney sweep. But armed with only his courage and wits, Grubb will confront the life-or-death battle he alone is destined to fight.
Survival Colony 9 by Joshua Bellin
Querry Genn is in trouble. He can't remember anything before the last six months. And Querry needs to remember. Otherwise he is deadweight to the other members of Survival Colony 9, one of the groups formed after a brutal war ravaged the earth. And now the Skaldi have come to scavenge what is left of humanity. No one knows what the Skaldi are, or why they are here, just that they can take over a person's body before shedding the corpse like a skin.
Querry is both protected and tormented by the colony's authoritarian commander, his father. Desperate to prove himself after the accident that stole his memory, Querry tries to fit in with the other teens. But he always feels like an outsider. The only person he can talk to is the beautiful Korah, but even with her, he can't shake the feeling that something is going terribly, desperately wrong. And that he and his lost memories are at the very center of it.
This Week, On The Reading Hedgehog......
January 19, 2015 - Monday
January 20, 2015 - Tuesday
January 21, 2015 - Wednesday
January 22, 2015 - Thursday
January 23, 2015 - Friday
January 24, 2015 - Saturday
Next Week, On The Reading Hedgehog.......
January 26, 2015 - Monday
Review: The Golden Dream of Carlo Chuchio - Lloyd Alexander
January 27, 2015 - Tuesday
Top Ten Tuesday #74: Top 10 Books I'd Love to Read With My Book Club
Teaser Tuesday #35
January 28, 2015 - Wednesday
Waiting on Wednesday #76 + WWW Wednesday #46
January 29, 2015 - Thursday
Review: Moriarty - Anthony Horowitz
January 30, 2015 - Friday
January Book Haul
January 31, 2015 - Saturday
Hedgie's Must Reads: January 2015