Waiting on Wednesday is hosted by
Breaking the Spine
.
It's a weekly meme about upcoming books we're excited about!
by Susan Adrian
Publication Date: January 20, 2015
From Goodreads:
Jake Lukin just turned eighteen. He's decent at tennis and Halo, and waiting to hear on his app to Stanford. But he's also being followed by a creep with a gun, and there's a DARPA agent waiting in his bedroom. His secret is blown.
When Jake holds a personal object, like a pet rock or a ring, he has the ability to "tunnel" into the owner. He can sense where they are, like a human GPS, and can see, hear, and feel what they do. It's an ability the government would do anything to possess: a perfect surveillance until who could locate fugitives, spies, or terrorists with a single touch.
Jake promised his dad he'd never tell anyone about his ability. But his dad died two years ago, and Jake slipped. If he doesn't agree to help the government, his mother and sister may be in danger. Suddenly he's juggling high school, tennis tryouts, flirting with Rachel Watkins, and work as a government asset, complete with 24-hour bodyguards.
Forced to lie to his friends and family, and then to choose whether to give up everything for their safety, Jake hopes the good he's doing - finding kidnap victims and hostages, and tracking down terrorists - is worth it. But he starts to suspect the good guys may not be so good after all. With Rachel's help, Jake has to try to escape both good guys and bad guys and find a way to live his own life instead of tunneling through others.
Why I'm Excited
- I love stories like this, for some reason. Kids being used as spies for the government. They're awesome!
by Marissa Meyer
(The Lunar Chronicles #0.1)
Publication Date: January 27, 2015
From Goodreads:
In this stunning bridge book between Cress and Winter in the bestselling Lunar Chronicles, Queen Levana's story is finally told.
Mirror, mirror on the wall,
Who is the fairest of them all?
Fans of the Lunar Chronicles know Queen Levana as a ruler who uses her "glamour" to gain power. But long before she crossed paths with Cinder, Scarlet, and Cress, Levana lived a very different story - a story that has never been told. . . .until now.
Marissa Meyer spins yet another unforgettable tale about love and war, deceit and death. This extraordinary book includes full-color art and an excerpt from Winter, the next book in the Lunar Chronicles series.
Why I'm Excited
- Does that question really need to be asked?
- IT'S QUEEN LEVANA'S STORY! I love backstory on villains! Love it!
What are you currently reading?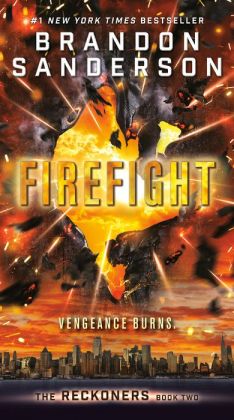 They told David it was impossible - that even the Reckoners had never killed a High Epic. Yes, Steelheart - invincible, immortal, unconquerable - is dead. And he died by David's hand.
Eliminating Steelheart was supposed to make life more simple. Instead, it only made David realize he has questions. Big ones. And there's no one in Newcago who can give him the answers he needs.
Babylon Restored, the old borough of Manhattan, has possibilities, though. Ruled by the mysterious High Epic, Regalia, David is sure Babylon Restored will lead him to what he needs to find. and while entering another city oppressed by a High Epic despot is a gamble, David's willing to risk it. Because killing Steelheart left a hole in David's heart. A hole where his thirst for vengeance once lived. Somehow, he filled that hole with another Epic - Firefight. And he's willing to go on a quest darker, and more dangerous even, than the fight against Steelheart to find her, and to get his answers.
I'm almost done with this second book in The Reckoners series! So, so close to being done! I just haven't had time to sit down and speed through it like I want to. But so far, it's awesome. I love it. A perfect sequel with more shocking revelations, awesome characters, and a pulse-pounding story.
What did you recently read?
For twelve long years, the dread fortress of Azkaban held an infamous prisoner named Sirius Black. Convicted of killing thirteen people with a single curse, he was said to be the heir apparent to the Dark Lord, Voldemort.
Now he has escaped, leaving only two clues as to where he might be headed: Harry Potter's defeat of You-Know-Who was Black's downfall as well; and the Azkaban guards heard Black muttering in his sleep, "He's at Hogwarts. . . .he's at Hogwarts."
Harry Potter isn't safe, not even within the walls of his magical school, surrounded by his friends. Because on top of it all, there may well be a traitor in their midst.
Book #3 in the Harry Potter series, I gave it 3 out of 5 strawberries. These books continue to entertain me, and this one of my favorite so far. Lots of plot twists, character development, more exploration of the wizarding world. It was awesome.
What do you plan on reading next?
A mysterious island. An abandoned orphanage. A strange collection of very curious photographs.
It all waits to be discovered in
Miss Peregrine's Home for Peculiar Children
, an unforgettable novel that mixes fiction and photography in a thrilling reading experience. As our story opens, a horrific family tragedy sets sixteen-year-old Jacob journeying to a remote island off the coast of Wales, where he discovers the crumbling ruins of Miss Peregrine's Home for Peculiar Children. As Jacob explores its abandoned bedrooms and hallways, it becomes clear that the children were more than just peculiar. They may have been dangerous. They may have been quarantined on a deserted island for good reason. And somehow - impossible though it seems - they may still be alive.
A re-read for me! This is the January pick for my Young Adult Biblio Babble Book Club, and I can't wait to revisit this book and see what I think of it now!