Heap House by Edward Carey
The extensive Iremonger family of Filching ("kings of mildew, moguls of mould") has made a fortune from junk, building a dark and sprawling mansion from salvage scrap. Heap House is surrounded by the dangerous, noxious, shifting Heaps that stretch beyond its bounds, while within its walls, certain objects begin to display strange signs of life.
Young Clod Iremonger is one the cusp of being "trousered" and betrothed (unhappily) to his cousin Pinalippy when he meets the plucky orphan servant Lucy Pennant, with whose help he begins to uncover the dark secrets of his family's empire. Mystery, romance, and the perils of the Heaps await!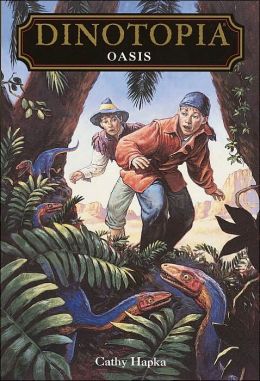 Oasis by Cathy Hapka
Jack and Ty are opposites. So when they travel together in a caravan across the Great Desert, there are bound to be disagreements. And when a sandstorm separates the boys from the rest of their group, the arguments get worse. Then they stumble upon a legendary oasis where they find a lost colony of small dinosaurs called Saltopus. Somehow, Jack and Ty must put aside their differences long enough to befriend the shy dinosaurs and figure out how to help them!
This Week, On The Reading Hedgehog.........
October 27, 2014 - Monday
Review: The Universe Builders - Steve LeBel
October 28, 2014 - Tuesday
October 29, 2014 - Wednesday
October 30, 2014 - Thursday
October 31, 2014 - Friday
November 1, 2014 - Saturday
Mini Break!
Next Week, On The Reading Hedgehog..........
November 3, 2014 - Monday
Review: File Under 13 Suspicious Incidents - Lemony Snicket
November 4, 2014 - Tuesday
Top Ten Tuesday #64: Top 10 Books I Want to Reread
Teaser Tuesday #24
November 5, 2014 - Wednesday
Waiting on Wednesday #66 + WWW Wednesday #36
November 6, 2014 - Thursday
Review: Flora & Ulysses - Kate DiCamillo
November 7, 2014 - Friday
Review: 172 Hours on the Moon - Johan Harstad
November 8, 2014 - Saturday
2014 Series Challenge Update #6