BOUGHT
Thief's War by Hilari Bell
Knights errant aren't supposed to let the bad guy escape. . . .
But Sir Michael and his squire Fisk were up to their necks in mayhem (as usual) and Fisk's old mentor, Jack Bannister, quietly slithered away. Now Michael has tracked Jack to the notorious city of Tallowsport - and it turns out Jack wasn't exaggerating when he said that the crime boss he works for runs the town. With the judicars and the sheriff working for the bad guys, a lone knight errand aided only by his trusty squire and a pack of ragtag orphans shouldn't stand a chance. But the thing that really gets in Michael's way is that Fisk refuses to see his old teacher hang.
City of a Thousand Dolls by Miriam Forster
Nisha was abandoned at the gates of the City of a Thousand Dolls when she was just a little girl. Now sixteen, she lives on the grounds of the isolated estate, where orphan girls apprentice as musicians, healers, courtesans, and, if the rumors are true, assassins. She makes her way as Matron's errand girl, her closest companions the mysterious cats that trail her shadow. Only when she begins a forbidden flirtation with the city's handsome young courier does she let herself imagine a life outside the walls. Until one by one, girls around her start to die.
Before she becomes the next victim, Nisha decides to uncover the secrets that surround the girls' deaths. But by getting involved, Nisha jeopardizes not only her own future in the City of a Thousand Dolls - but also her life.
Pennyroyal Academy by M.A. Larson
A girl from the forest, with no name and no idea why she is there, arrives in a bustling kingdom only to find herself at the center of a world at war. She enlists at Pennyroyal Academy, where princesses and knights are trained to battle the two great menaces of the day: witches and dragons. There, given the name "Evie," she must endure a harsh training regimen under the steely glare of her Fairy Drillsergeant, while also navigating an entirely new world of friends and enemies.
As Evie learns what it truly means to be a princess, she realizes surprising things about herself and her family, about human compassion and inhuman cruelty. And with the witch forces moving nearer, she discovers that the war between princesses and witches is much more personal than she could ever have imagined.
Divided by Elsie Chapman
West Grayer is done killing. She defeated her Alternate, a twin raised by another family, and proved she's worthy of a future. She's ready to move on with her life.
The Board has other plans. They want her to kill one last time, and offer her a deal worth killing for. But when West recognizes her target as a ghost from her past, she realizes she's in over her head. The Board is lying, and West will have to uncover the truth of the past to secure her future.
How far will the Board go to keep their secrets safe? And how far will West go to save those she loves?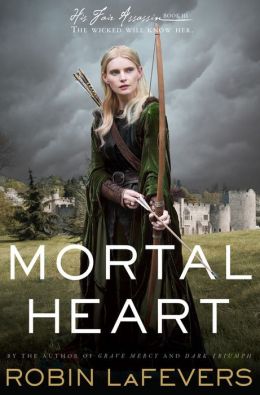 Mortal Heart by Robin LaFevers
Annith has watched her gifted sisters at the convent come and go, carrying out their dark dealings in the name of St. Mortain, patiently awaiting her own turn to serve Death. But her worst fears are realized when she discovers she is being groomed by the abbess as a seeress, to be forever sequestered in the rock and stone womb of the convent. Feeling sorely betrayed, Annith decides to strike out on her own.
But across Brittany, the tides of war are drawing ever nearer, with France pressuring the beleaguered duchess from all sides. Annith's search for answers threatens to rip open an intricate web of lies and deceit that sits at the center of the convent she serves. Yet to expose them threatens the very fabric of her existence and an unforeseen chance at love that she can no longer deny. Annith must carefully pick a path and, gods willing, effect a miracle that will see her country - and her heart - to safety.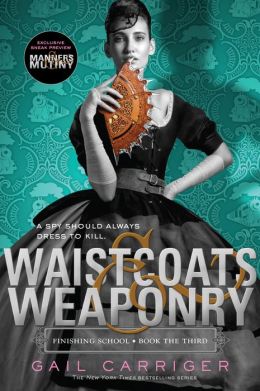 Waistcoats & Weaponry by Gail Carriger
Class is back in session. Sophronia continues finishing school in style - with a steel-bladed fan secreted in the folds of her ball gown, of course. Such a fashionable choice of weapon comes in handy when Sophronia, her best friend Dimity, sweet sootie Soap, and the charming Lord Felix Mersey hijack a suspiciously empty train to return their chum Sidheag to her werewolf pack in Scotland. But when Sophronia discovers they are being trailed by a dirigible of Picklemen and flywaymen, she unearths a plot that threatens to throw all of London into chaos. With her friends in mortal danger, Sophronia must sacrifice what she holds most dear - her freedom.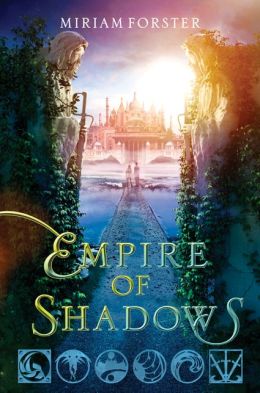 Empire of Shadows by Miriam Forster
Cast out of her family three years ago, Mara turned to the only place that would take her - a school where students train to protect others. But Mara is stunned when guarding a noble girl in the Empire's capital turns out to be more dangerous than she could've imagined. More shocking still, she finds the boy she thought she had lost forever outside the gates of her new home.
Mara knew the dizzying Imperial city would hold dangers. How could she have known that her heart, as well as her life, would be at stake?
This Week, On The Reading Hedgehog.......
November 3, 2014 - Monday
November 4, 2014 - Tuesday
November 5, 2014 - Wednesday
November 6, 2014 - Thursday
November 7, 2014 - Friday
November 8, 2014 - Saturday
Next Week, On The Reading Hedgehog.......
November 10, 2014 - Monday
Review: The Haven - Carol Lynch Williams
November 11, 2014 - Tuesday
Top Ten Tuesday #65: Top 10 Characters You Wish Would Get Their OWN Book
Teaser Tuesday #26
November 12, 2014 - Wednesday
Waiting on Wednesday #67 + WWW Wednesday #37
November 13, 2014 - Thursday
Review: The Colossus Rises - Peter Lerangis
November 14, 2014 - Friday
Review: The Witch's Curse + Adventures in Flatfrost - Jordan Quinn
November 15, 2014 - Saturday
Hedgehog Life: November 2014