Waiting on Wednesday is hosted by
Breaking the Spine
.
It's a weekly meme about upcoming books we're excited about!
(Blackcoat Rebellion #2)
by Aimee Carter
Publication Date: November 18, 2014
From Goodreads:
For the past two months, Kitty Doe's life has been a lie. Forced to impersonate the Prime Minister's niece, her frustration grows as her trust in her fake fiance cracks, her real boyfriend is forbidden and the Blackcoats keep her in the dark more then ever.
But in the midst of discovering that her role in the Hart family may not be as coincidental as she thought, she's accused of treason and is forced to face her greatest fear: Elsewhere. A prison where no one can escape.
As one shocking revelation leads to the next, Kitty learns the hard way that she can trust no one, not even the people she thought were on her side. With her back against the wall, Kitty wants to believe she'll do whatever it takes to support the rebellion she believes in - but is she prepared to pay the ultimate price?
Why I'm Excited
- I'm always happy to read the next installment in an on-going series.
- Pretty cover!
- I have hopes that this next book might be better than the first, because there's potential in this series.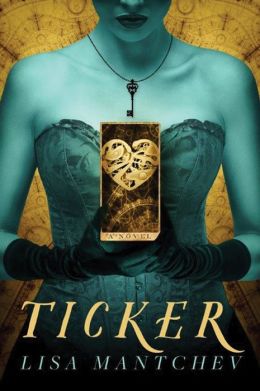 by Lisa Mantchev
Publication Date: December 1, 2014
From Goodreads:
When Penny Farthing nearly dies, brilliant surgeon Calvin Warwick manages to implant a brass "Ticker" in her chest, transforming her into the first of the Augmented. But soon it's discovered that Warwick killed dozens of people as he strove to perfect another improved Ticker for Penny, and he's put on trial for mass murder.
On the last day of Warwick's trial, the Farthings' factory of bombed, Penny's parents disappear, and Penny and her brother, Nic, receive a ransom note demanding all of their Augmentation research if they want to see their parents again. Is someone trying to destroy the Farthings. . . .or is the motive more sinister?
Desperate to reunite their family and rescue their research, Penny and her brother recruit fiery baker Violet Nesselrode, gentleman-about-town Sebastian Stirling, and Marcus Kingsley, a young army general who has his own reasons for wanting to lift the veil between this world and the next. Wagers are placed, friends are lost, romance stages an ambush, and time is running out for the girl with the clockwork heart.
Why I'm Excited
- It's steampunk!
- It's steampunk!
- I say it again: it's steampunk!
What are you currently reading?
Alexandrus has been hoping for his promotion to centurion for a while, not only for his own personal gain, but to make his father, a wounded veteran, proud. However, promotion does not come in the way he expects.
He finds himself posted to a frontier fort on the Northern Border, commanding a cohort of Celtic auxiliaries. Chosen for this particular job because his grandmother was British and he speaks the language, he sets off for his new posting, leaving behind a disappointed father and the relatively comfortable life he has known in the south.
When he reaches the fort, he finds it the most horribly run place he has ever seen. Men are sleeping on duty, no one seems to be motivated to do anything, and the decurion of "currently indisposed." He soon makes it his duty to join with the other centurions and whip the men into shape, but it proves difficult, for the fort is full of troublemakers, both well-meaning and otherwise. But the lack of discipline is not the only thing strange about the new posting. Where are the horses if it's supposed to be a cavalry cohort? Why do most of the men seem to have strange golden eyes, and why is it that most of them have bite scars? It can't be that they were all so unlucky while hunting for wolf skins, could it? Alex disregards an old story he hears about a Druid curse, but when it comes to the night of his own initiation, he begins to wonder whether there is truth to it after all.
This is kind of a slow, chapter-every-night read for me right now. Not because it's boring or because I don't like it - I do! It's really, really good so far, with awesome characters and an intriguing plot. I'm having trouble concentrating on books right now, especially paperbacks, so I decided to make this a night-by-night read. And it's perfect for that, actually. Really enjoying it so far!
What have you recently read?
The same as last week - Blue Lily, Lily Blue by Maggie Stiefvater. Yeah, I'm a slow reader this month. No good, since I have so many books to get through!
What do you plan on reading next?
Still The Scorpio Races by Maggie Stiefvater. It's the November pick for my Young Adult Biblio Babble Book Club, and I need to get cracking!