From the Library:
The Testing by Joelle Charbonneau
The Seven Stages War left much of the planet a charred wasteland. The future belongs to the best generation's chosen few who must rebuild it. But to enter this elite group, candidates must first pass The Testing - their one chance at a college education and a rewarding career.
Cia Vale is honored to be chosen as a Testing candidate; eager to prove her worthiness as a University student and future leader of the United Commonwealth. But on the eve of her departure, her father's advice hints at a darker side to her upcoming studies - trust no one.
But surely she can trust Tomas, her handsome childhood friend who offers an alliance? Tomas, who seems to care more about her with the passing of every grueling (and deadly) day of the Testing. To survive, Cia must choose: love without truth or life without trust.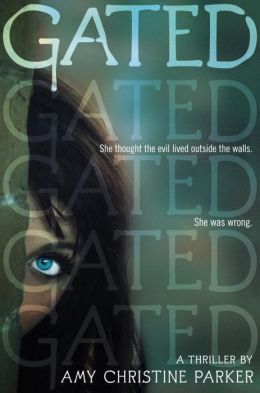 Gated by Amy Christine Parker
In the Community, life seems perfect. After the 9/11 terrorist attacks, Pioneer invited Lyla's family to join his group and escape the evil in the world. They were happy to be chosen, happy to move away from New York and start over in such an idyllic gated community. Now seventeen, Lyla knows that Pioneer is more than just their charismatic leader, he is their prophet . . . but his visions have grown dark.
Lyla is a loyal member of the Community, but a chance encounter with an outsider boy has her questioning Pioneer, the Community - everything. And if there's one thing not allowed in the Community, it's doubt. Her family and friends are certain in their belief. Lyla wishes she could feel the same. As Pioneer beings to manipulate his flock toward disaster, the question remains: Will Lyla follow them over the edge?
Bought:
The Twistrose Key by Tone Almhjell
When a mysterious parcel arrives at her family's new home, eleven-year-old Lin Rosenquist has a curious feeling she's meant to discover what's inside.
Much to Lin's surprise, the ornate key contained in the parcel unlocks a spellbinding world called Sylver, hidden behind the cellar door. Sylver is an enchanting land of eternal winter, inhabited by animals that shared a special connection with children in the real world, either as beloved pets or tamed wild animals. In death, they are delivered to Sylver, where they take on a curiously human-like form and still watch over the children they cherish. While Lin is overjoyed to be reunited with her beloved pet, Rufus, she soon learns that the magic of the Petlings and Wilders is failing, and snow trolls want to claim Sylver for themselves. Lin must discover a way to stop them and save this enchanted world.
November 4, 2013 - Monday
November 5, 2013 - Tuesday
November 6, 2013 - Wednesday
November 7, 2013 - Thursday
November 8, 2013 - Friday
November 9, 2013 - Saturday