Waiting on Wednesday is hosted by
Breaking the Spine
.
It's a weekly meme about upcoming books we're excited about!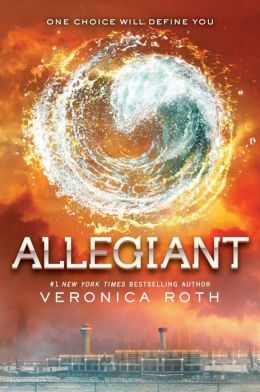 Allegiant
(Divergent #3)
by Veronica Roth
Publication Date:
October 22, 2013
From Goodreads:
What if your whole world was a lie?
What if a single revelation - like a single choice - changed everything?
What if love and loyalty made you do things you never expected?
The faction-based society that Tris Prior once believed in is shattered - fractured by violence and power struggles and scarred by loss and betrayal. So when offered a chance to explore the world past the limits she's known, she and Tobias will find a simple new life together, free from complicated lies, tangled loyalties, and painful memories.
But Tris's new reality is even more alarming than the one she left behind. Old discoveries are quickly rendered meaningless. Explosive new truths change the hearts of those she loves. And once again, Tris must battle to comprehend the complexities of human nature - and herself - while facing impossible choices about courage, allegiance, sacrifice, and love.
(Ranger's Apprentice #12)
Publication Date: November 5, 2013
From Goodreads:
Will Treaty has come a long way from the small boy with dreams of knighthood. Life had other plans for him, and as an apprentice Ranger under Halt, he grew into a legend - the finest Ranger the kingdom has ever known. Yet Will is facing a tragic battle that has left him grim and alone. To add to his problems, the time has come to take on an apprentice of his own, and it's the last person he ever would have expected. Fighting his personal demons, Will has to win the trust and respect of his difficult new companion - a task that at times seems almost impossible.