Waiting on Wednesday is hosted by
Breaking the Spine
.
It's a weekly meme about upcoming books we're excited about!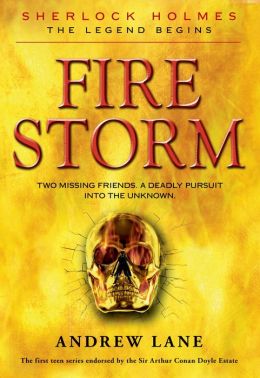 Fire Storm
(Young Sherlock Holmes #4)
by Andrew Lane
Publication Date (US):
October 1, 2013
From Goodreads:
Fourteen-year-old Sherlock has come up against some challenges in his time, but what confronts him now is completely baffling. His tutor, Crowe, and Crowe's daughter, Ginny, have vanished. Their house looks as if nobody has ever lived there. Neighbors claim never to have heard of them. Sherlock begins to doubt his sanity, until a chance clue leads him into the throes of a mystery that involves kidnapping, bodysnatchers, and a man who claims he can raise the dead. Before he knows it, Sherlock is fighting for his life as he battles to discover what has happened to his friends.
by Carolyn Meyer
Publication Date: October 8, 2013
From Goodreads:
What is it like to be the daughter of the most beautiful woman in the world?
Hermione knows . . . her mother is Helen of Troy, the famed beauty of Greek myth. Helen is not only beautiful but also impulsive, and when she falls in love with charming Prince Paris, she runs off with him to Troy, abandoning her distraught daughter. Determined to reclaim their enchanting queen, the Greek army sails for Troy. Hermione stows away in one of the thousand ships in the fleet and witnesses the start of the legendary Trojan War.
In the rough Greek encampment outside the walls of Troy, Hermione's life is far from that of a pampered princess. Meanwhile, her mother basks in luxury in the royal palace inside the city. Hermione desperately wishes for the gods and goddesses to intervene and end the brutal war - and to bring her love. Will she end up with the handsome archer Orestes, or the formidable Pyrrhus, leader of a tribe of warriors? And will she ever forgive her mother for bringing such chaos to her life and the lives of so many others?