From the Library:
The Sea of Monsters by Rick Riordan
Percy Jackson's seventh-grade year has been surprisingly quiet. Not a single monster has set foot on his New York prep-school campus. But when an innocent game of dodgeball among Percy and his classmates turns into a death match against an ugly gang of cannibal giants, things get . . . well, ugly. And the unexpected arrival of Percy's friend Annabeth brings more bad news: the magical borders that protect Camp Half-Blood have been poisoned by a mysterious enemy, and unless a cure is found, the only safe haven for demigods will be destroyed.


How to Lead a Life of Crime by Kirsten Miller
A meth dealer. A prostitute. A serial killer. Anywhere else, they'd be vermin. At the Mandel Academy, they're called prodigies. The most exclusive school in New York City has been training young criminals for over a century. Only the most ruthless students are allowed to graduate. The rest disappear.

Flick, a teenage pickpocket, has risen to the top of his class. But then Mandel recruits a fierce new competitor who also happens to be Flick's old flame. They've been told only one of them will make it out of the Mandel Academy. Will they find a way to save each other - or will the school destroy them both?


ARCs: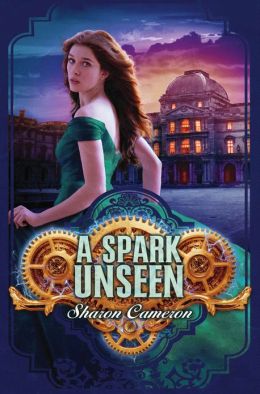 A Spark Unseen
by Sharon Cameron
When Katharine Tulman wakes in the middle of the night and accidentally foils a kidnapping attempt on her uncle, she realizes Stranwyne Keep is no longer safe for Uncle Tully and his genius inventions. She flees to Paris, where she hopes to remain undetected and also find the mysterious and handsome Lane, who is suspected to be dead.
But the search for Lane is not easy, and Katharine soon finds herself embroiled in a labyrinth of political intrigue. And with unexpected enemies and allies at every turn, Katharine will have to figure out whom she can trust - if anyone - to protect her uncle from danger once and for all.