Waiting on Wednesday is hosted by
Breaking the Spine
.
It's a weekly meme about upcoming books we're excited about!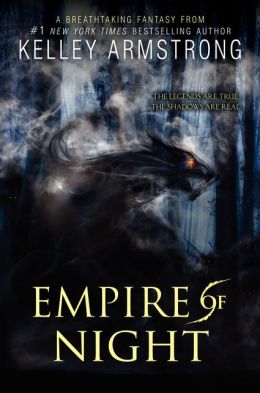 by Kelley Armstrong
Age of Legends: #2
Publication Date: April 7, 2015
From Goodreads:
Sisters Moria and Ashyn are the Keeper and Seeker of Edgewood. Or at least, they were.
Their village is gone. Their friends have betrayed them. And now, the emperor has sent them on a mission to rescue the children of Edgewood - accompanied by Prince Tyrus and a small band of imperial warriors. But the journey proves more perilous than they could have imagined. With treachery and unrest mounting in the empire, Moria and Ashyn will have to draw on all their influence and power to overcome deadly enemies - not all of them human - and even avert an all-out war.
Why I'm Excited
- This is the sequel to Sea of Shadows - a brand new 2014 release that I thoroughly enjoyed. It was spooky and intriguing and has two very strong female protagonists. I cannot wait to see what happens next.
- Can we just take a moment to appreciate that cover? Genius.