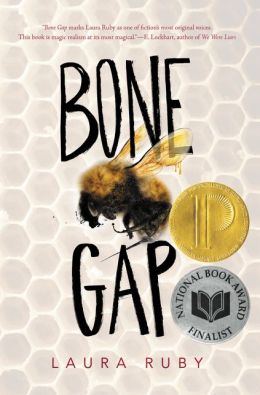 Bone Gap
by Laura Ruby
Genre:
YA, mythology retelling
Published on
March 3, 2015
Published by
Balzer + Bray
Pages:
368
Read From:
3.19.15 - 3.21.15
SYNOPSIS
Everyone knows Bone Gap is full of gaps - gaps to trip you up, gaps to slide through so you can disappear forever. So when young, beautiful Roza went missing, the people of Bone Gap weren't surprised. After all, it wasn't the first time that someone had slipped away and left Finn and Sean O'Sullivan on their own. Just a few years before, their mother had high-tailed it to Oregon for a brand new guy, a brand new life. That's just how things go, the people said. Who are you going to blame?
Finn knows that's not what happened with Roza. He knows she was kidnapped, ripped from the cornfields by a dangerous man whose face he cannot remember. But the searches turn up nothing, and no one believes him anymore. Not even Sean, who has more reason to find Roza than anyone, and every reason to blame Finn for letting her go.
As we follow the stories of Finn, Roza, and the people of Bone Gap - their melancholy pasts, their terrifying presents, their uncertain futures - acclaimed author Laura Ruby waves a heartbreaking tale of love and loss, magic and mystery, regret and forgiveness - a story about how the face the world sees is never the sum of who we are.
Dear Bone Gap,
I did not know what to expect from you at all. I picked you up because your premise was intriguing, but I had no preconceived notions of what you had in store for me.
You tell the story of two brothers - Finn and Sean - and a young Polish girl Roza who is running away from something and finds shelter in their home. And then Roza leaves just as suddenly as she was there. Everyone in the small town of Bone Gap figured that she just left, like so many people in Finn and Sean's life. But Finn saw the strange man who took Roza - the man with cold stone eyes and who moves like a corn stalk in the wind. Finn knows that there is a lot more going on.
You are my third exploration into magic realism, and you were the weirdest. As we follow the third-person narrations of Finn, Roza, Sean, and several other characters, we are given glimpses into the bizarre world of Bone Gap - and Roza's past. The backgrounds of characters are interwoven and connect to the present, but it is a long and twisting path along the way.
It's a clever narration, really; you kept me reading. I wanted to know what the hell was going on. I never knew when to take something literal or figuratively. Did the corn really talk to Finn? Did it really leave the fields at night to escape the Scare Crow? Could Priscilla "Petey" actually talk to bees? It was all very confusing and bizarre and didn't make much sense.
But I kept reading, Bone Gap, because I wanted to know. And I did actually care about the characters. Finn was a quirky, unique protagonist with a bizarre view of the world. Sean was so nice and sweet that it was impossible to not like him. And Roza so quiet and gentle, yet with a surprising bit of fire.
More than halfway through the book, suddenly things made sense, when I realized that you are in fact a loose retelling of the Hades/Persephone myth. Whether you were an intended retelling, when I made that connection, everything made sense, and I applauded your author for being so clever and my enjoyment of you went up ten times.
You were a thrilling, bizarre read, Bone Gap. But you were amazing.