Waiting on Wednesday is hosted by
Breaking the Spine
.
It's a weekly meme about upcoming books we're excited about!
by Brandon Sanderson
(Reckoners #2)
Publication Date: January 6, 2015
From Goodreads:
They told David it was impossible - that even the Reckoners had never killed a High Epic. Yet, Steelheart - invincible, immortal, unconquerable - is dead. And he died by David's hand.
Eliminating Steelheart was supposed to make life more simple. Instead, it only made David realize he has questions. Big ones. And there's no one in Newcago who can give him the answers he needs.
Babylon Restored, the old borough of Manhattan, has possibilities, though. Ruled by the mysterious High Epic, Regalia, David is sure Babylon Restored will lead him to what he needs to find. And while entering another city oppressed by a High Epic despot is a gamble, David's willing to risk it. Because killing Steelheart left a hole in David's heart. A hole where his thirst for vengeance once lived. Somehow, he filled that hole with another Epic - Firefight. And he's willing to go on a quest darker, and more dangerous even, than the fight against Steelheart to find her, and to get his answers.
Why I'm Excited
- It's the third Reckoners book!
- I am dying to find out what happens next! With all the twists at the end of Steelheart, I simply must know!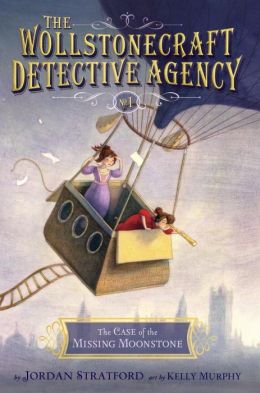 The Case of the Missing Moonstone
by Jordan Stratford
(The Wollstonecraft Detective Agency #1)
Publication Date: January 6, 2015
From Goodreads:
Lady Ava Byron, age eleven, is a genius. Isolated, awkward and a bit rude - but a genius. Mary Godwin, age fourteen, is a romantic. Adventurous, astute, and kind, Mary is to become Ada's first true friend. And together, the girls conspire to form the Wollstonecraft Detective Agency - a secret constabulary for the apprehension of clever criminals. Their first case involves a stolen heirloom, a false confession, and an array of fishy suspects. But it's no match for the deductive powers and bold hearts of Ada and Mary.
Why I'm Excited
- I am a sucker for Victorian mysteries, especially Middle Grade.
- This sounds adorable beyond words.
What are you currently reading?
A girl from the forest arrives in a bustling kingdom with no name and no idea why she is there, only to find herself at the center of a world at war. She enlists at Pennyroyal Academy, where princesses and knights are trained to battle the two great menaces of the day: witches and dragons. There, given the name "Evie," she must endure a harsh training regimen under the steel glare of her Fairy Drillsergeant, while also navigating an entirely new world of friends and enemies. As Evie learns what it truly means to be a princess, she realizes surprising things about herself and her family, about human compassion and inhuman cruelty. And with the witch forces moving nearer, she discovers that the war between princesses and witches is much more personal than she could ever have imagined.
Halfway through this first book in a series, and loving it. It's a lot darker than I was expecting, but it's awesome. The characters are awesome, the world is awesome, and I'm loving it. Did I already say that?
What have you recently read?
Cas Lowood has inherited an unusual vocation: He kills the dead.
So did his father before him, until he was gruesomely murdered by a ghost he sought to kill. Now, armed with his father's mysterious and deadly athame, Cas travels the country with his kitchen-witch mother and their spirit-sniffing cat. They follow legends and local lore, destroy the murderous dead, and keep pesky things like the future and friends at bay.
Searching for a ghost the locals call Anna Dressed in Blood, Cas expects the usual: track, hunt, kill. What he finds instead is a girl entangled in curses and rage, a ghost like he's never faced before. She still wears the dress she wore on the day of her brutal murder in 1958: once white, now stained red and dripping with blood. Since her death, Anna has killed any and every person who has dared to step into the deserted Victorian house she used to call home.
Yet she spares Cas's life.
I gave this first book in a duology 3 out of 5 strawberries. It was spooky, it was creepy, and downright disturbing at times. I liked the characters well enough, and the premise was intriguing (though it did remind of Supernatural quite a bit). I was even surprised that the romance was not nearly as prominent as some readers led me to believe. This isn't a complaint; romance between ghost and living person is something I always prefer to not be in a book. It's weird. But overall, this was a good book.
What do you plan on reading next?