Moriarty by Anthony Horowitz
Days after Holmes and Moriarty disappear into the waterfall's churning depths, Frederick Chase, a senior investigator at New York's infamous Pinkerton Detective Agency, arrives in Switzerland. Chase brings with him a dire warning: Moriarty's death has left a convenient vacancy in London's criminal underworld. There is no shortage of candidates to take his place - including one particularly fiendish criminal mastermind.
Chase is assisted by Inspector Athelney Jones, a Scotland Yard detective and devoted student of Holmes's methods of deduction, whom Conan Doyle introduced in The Sign of Four. The two men join forces and fight their way through the sinuous streets of Victorian London - from the elegant squares of Mayfair to the shadowy wharfs and alleyways of the Docks - in pursuit of this sinister figure, a man much feared but seldom seen, who is determined to stake his claim as Moriarty's successor.
Gathering Darkness by Morgan Rhodes
Darkness has fallen upon Mytica, and the Golden Princess will be a prisoner no longer.
Cleo's forced marriage to Prince Magnus ended in the gruesome decimation of Jonas's rebel army. Now, she vows to take control of her own destiny - even if it means being as cunning and deceitful as greedy King Gaius, who stole her father's throne.
Princess Lucia's powers are growing stronger by the day and, much to Gaius's delight, the magic of the Kindred feels closer than ever Out of nowhere, Alexius, a handsome stranger from Lucia's dreams, arrives at the palace, promising that he knows the secret to unlocking the sorceress's full potential. Gaius is convinced that Alexius holds the key to unlocking the godlike force of the ancient elements. But Magnus doesn't trust this intruder for a minute. In times as dark as these, he of all people knows not to trust even the most angelic of faces.
But the King of Blood is not the only one in pursuit of total domination. Two beautiful and cunning royals from across the Silver Sea have come to Mytica with a plan to take in much more than the local culture. The race is on to uncover the Kindred. Whoever wins will control the fate of Mytica. . . .but fate can be fickle when magic is involved.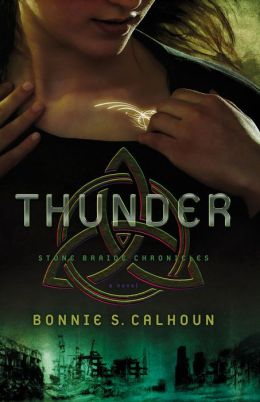 Thunder by Bonnie S. Calhoun
With evocative descriptions of a strange new world that combines elements of disturbing scientific advances, devious political conspiracy, and survival in a hostile wilderness, Bonnie S. Calhoun weaves a captivating tale of a society more like our own than we may want to admit. From the tension-laced first scene to the captivating last page, Thunder is an epic journey into the heart of humankind that explores how far we are willing to go when we're pushed to the limit.
Ticker by Lisa Mantchev
When Penny Farthing nearly dies, brilliant surgeon Calvin Warwick manages to implant a brass "Ticker" in her chest, transforming her into the first of the Augmented. But soon it's discovered that Warwick killed dozens of people as he strove to perfect another, improved Ticker for Penny, and he's put on trial for mass murder.
On the last day of Warwick's trial, the Farthings' factory is bombed, Penny's parents disappear, and Penny and her brother, Nic, receive a ransom note demanding all of their Augmentation research if they want to see their parents again. Is someone trying to destroy the Farthings. . . .or is the motive more sinister?
Desperate to reunite their family and rescue their research, Penny and her brother recruit fiery baker Violet Nesselrode, gentleman-about-town Sebastian Stirling, and Marcus Kingsley, a young army general who has his own reasons for wanting to lift the veil between this world and the next. Wagers are placed, friends are lost, romance stages an ambush, and time is running out for the girl with the clockwork heart.
Scorpion Mountain by John Flanagan
Fresh off of victory over their longtime nemesis, Tursgud, Hal and the Heron, summoned by King Duncan, set sail for Castle Araluen. Thrust into the dangerous world of Araluen, the Herons learn of a threat to Queen Evanlyn and whispers of a deadly sect known as the Scorpion Cult. Rumors say that Iqbal, who previously tried to assassinate Evanlyn at her wedding to Horace, might be planning another attempt. Not waiting to see if the knife will strike true, the Herons join forces with Gilan and his fellow Rangers to track down the would-be assassins.
I'll Give You the Sun by Jandy Nelson
Jude and her twin brother, Noah, are incredibly close. At thirteen, isolated Noah draws constantly and is falling in love with the charismatic boy next door, while daredevil Jude cliff-dives and wears red-red lipstick and does the talking for both of them. But three years later, Jude and Noah are barely speaking. Something has happened to wreck the twins in different and dramatic ways. . . .until Jude meets a cocky, broken, beautiful boy, as well as someone else - an even more unpredictable new force in her life. The early years are Noah's story to tell. The later years are Jude's. What the twins don't realize is that they each have only half the story, and if they could just find their way back to one another, they'd have a chance to remake their world.
Beneath the Stone Forest by Jordan Quinn
Clara invites Prince Lucas on her journey to map out the Stone Forest and visit the gnomes who live there. Unfortunately, Lucas has a visiting cousin who's a royal pain and doesn't want to get her hands dirty. But when Princess Bell's puppy gets lost in the tunnels beneath the Stone Forest, she realizes that the subjects who make up a kingdom are just as important as their rulers.
This Week, On The Reading Hedgehog......
December 15, 2014 - Monday
December 16, 2014 - Tuesday
December 17, 2014 - Wednesday
December 18, 2014 - Thursday
December 19, 2014 - Friday
December 20, 2014 - Saturday
Next Week, On The Reading Hedgehog.......
December 22, 2014 - Monday
Review: Emma and the Blue Genie - Cornelia Funke
December 23, 2014 - Tuesday
Top Ten Tuesday #70: Top 10 Books I Wouldn't Mind Santa Bringing Me
Teaser Tuesday #31
December 24, 2014 - Wednesday
Waiting on Wednesday #72 + WWW Wednesday #42
December 25, 2014 - Thursday
Merry Christmas!
December 26, 2014 - Friday
Review: The Crown of Embers - Rae Carson
December 27, 2014 - Saturday
Guest Post: Best Books of 2014