Waiting on Wednesday is hosted by
Breaking the Spine
.
It's a weekly meme about upcoming books we're excited about!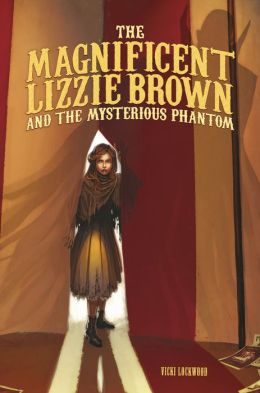 The Magnificent Lizzie Brown and the Mysterious Phantom
(Lizzie Brown #1)
by Vicki Lockwood
Publication Date:
September 1, 2014
From Goodreads:
A mysterious Phantom is terrorizing London, and when Lizzie realizes she has a talent that will let her stop the crimes before they happen, she and her new circus friends feel compelled to intervene. But when one of their own is blamed for the crimes instead, their investigation takes a turn for the worse. When the truth finally comes out, the real culprit is the last person anyone expects.
Why I'm Excited
Because it sounds like a Middle Grade book that I would have adored as a kid, and I can't collect enough of those sort of books.
(Worldwalker Trilogy #1)
by Josephine Angelini
Publication Date: September 2, 2014
From Goodreads:
This world is trying to kill Lily Proctor. Her life-threatening allergies keep her from enjoying experiences that others in her hometown of Salem take for granted, which is why she is determined to enjoy her first high school party with her best friend and longtime crush, Tristan. But after a humiliating incident in front of half her graduating class, Lily wishes she could just disappear.
Suddenly, Lily is in a different Salem - one overrun with horrifying creatures and ruled by powerful women called Crucibles. Strongest and cruelest of them all is Lillian. . . .Lily's other self in this alternate universe.
What makes Lily weak at home is what makes her extraordinary in New Salem. In this confusing world, Lily is torn between responsibilities she can't hope to shoulder alone and a love she never expected.
Why I'm Excited
I have my misgivings about this book, naturally, but it still sounds interesting, so I'm mostly excited.
What are you currently reading?
The circus arrives without warning. No annoucements precede it. It is simply there, when yesterday it was not. Within the black-and-white striped canvas tents is an utterly unique experience full of breathtaking amazements. It is called Le Cirque des Reves, and it is only open at night.
But behind the scenes, a fierce competition is underway: a duel between two young magicians, Celia and Marco, who have been trained since childhood expressly for this purpose by their mercurial instructors. Unbeknownst to them both, this is a game in which only one can be left standing. Despite the high stakes, Celia and Marco soon tumble headfirst into love, setting off a domino effect of dangerous consequences, and leaving the lives of everyone, from the performers to the patrons, hanging in the balance.
More than halfway through and I LOVE it! The writing, the characters, the setting - wow. Just wow. Imagine a banquet made of words. That is The Night Circus. This is a wonderful book.
What did you read recently?
Ever since Addison came back to Aileen, her have been brighter and life is sweeter. Until a mysterious man slips a spellbinding cameo around her neck, a cameo that strangles memories. Aileen is left with not the faintest notion who Addison is.
Addison, a three-hundred-year-old fugitive from the netherworld taking the form of Shadowflesh, recognizes the cameo and the curse cast upon his unsuspecting love. But he knows breaking the curse, which may bring back her memories, will cost Aileen her life. To love her means to let her go.
But Aileen can't take her eyes off the stranger who keeps ignoring her. The stranger who pushes her into the arms of another.
Geoff, who has waited oh, so long for Aileen, tries to sweep her off her feet at the Christmas masquerade ball. But a serendipitous moment lands Aileen back together with Addison. One passionate kiss later, she knows beyond a shadow of doubt that she loves Addison, the icy stranger with smoky blue eyes.
Remembering comes at too high a price, though. Aileen must run for her life with the curse only a breath away.
The second book in a series, I gave it 3/5 strawberries. For a paranormal romance, it was good. I wasn't especially attached to anyone or emotionally invested in relationships, but that was mostly because I haven't read the first book. Overall, though, it was fun.
What are you going to read next?
For Ruthie Carmichael and her mother Rita, life has never been stable. Jobs are hard to find, men come and go. But when a set of unexpected circumstances strands them in Fat River, a small rural town in upstate New York, life takes a turn. Fat River becomes the first place they call home. The modest economic security they gain gives them peace and space for friends. The people of Fat River - Hank and Dotty Hanson, the elderly owners of the local hardware store being driven out of business by the new Walmart; Mel, the flawed but kindhearted owner of the town diner where Rita finds work; and the cross-dressing Peter Pam, the novel's voice of warmth and reason - become family. Into this quirky utopia comes Vick Ward, a smooth-talking broker who entices Rita with a subprime mortgage and urges her to buy the ramshackle house she and her daughter have been renting.
Tough and quick-witted, thirteen-year-old Ruthie - whose sardonic voice and plain-spoken observations infuse All We Had with disarming honesty and humor - never minded her hardscrabble existence as long as her mother was by her side. Through it all, the two have always been the center of one another's lives. But when financial crisis hits, their luck takes a different turn.
Time for another contemporary. I don't know if I'll finish this one; we'll see. I kind of get the feeling that I will DNF (did not finish) it.