BOUGHT:


The Maze Runner by James Dashner
When Thomas wakes up in the lift, the only thing he can remember is his name. He's surrounded by strangers - boys whose memories are also gone.
Outside the towering stone walls that surround the Glade is a limitless, ever-changing maze. It's the only way out - and no one's ever made it through alive.
Then a girl arrives. The first girl ever. And the message she delivers is terrifying.
The Night Circus by Erin Morgenstern
The circus arrives without warning. No announcements precede it. It is simply there, when yesterday it was not. Within the black-and-white striped canvas tents is an utterly unique experience full of breathtaking amazements. It is called Le Cirque des Reves, and it is only open at night.
But behind the scenes, a fierce competition is underway: a duel between two young magicians, Celia and Marco, who have been trained since childhood expressly for this purpose by their mercurial instructors. Unbeknownst to them both, this is a game in which only one can be left standing. Despite the high stakes, Celia and Marco soon tumble headfirst into love, setting off a domino effect of dangerous consequences, and leaving the lives of everyone, from the performers to the patrons, hanging in the balance.
Firestorm by Gene DeWeese
All of Dinotopia is in an uproar. Something is killing off Arctium longevus, the special plant that grants Dinotopians long life - sometimes over two hundred years! As desperate citizens set fires to keep the blight under control, Olivia and Albert, along with their dinosaur partners Hightop and Thunderfoot, race to find a solution. But Olivia is secretly determined to claim all the glory for herself. In her hurried search for answers, what important questions is she forgetting to ask?
Storm Siren by Mary Weber
As a slave in the war-weary kingdom of Faelen, seventeen-year-old Nym isn't merely devoid of rights, her Elemental kind are only born male and always killed at birth - meaning, she shouldn't even exist.
Standing on the auction block beneath smoke-drenched mountains, Nym faces he fifteenth sell. But when her hood is removed and her storm-summoning killing curse revealed, Nym is snatched up by a court advisor and given a choice: be trained as the weapon Faelen needs to win the war or be killed.
Choosing the former, Nym is unleashed into a world of politics, bizarre parties, and rumors of an evil more sinister than sh'es being prepared to fight. . . .not to mention the trainer whose dark secrets lie behind a mysterious ability to calm every lightning strike she summons.
But what if she doesn't want to be the weapon they've all been waiting for?
ARCs:
All We Had by Annie Weatherwax
For Ruthie Carmichael and her mother Rita, life has never been stable. Jobs are hard to find, men come and go. But when a set of unexpected circumstances strands them in Fat River, a small rural town in upstate New York, life takes a turn. Fat River becomes the first place they call home. The modest economic security they gain gives them peace and space for friends. The people of Fat River - Hank and Dotty Hanson, the elderly owners of the local hardware store being driven out of business by the new Walmart; Mel, the flawed, but kindhearted owner of the town diner where Rita finds work; and the cross-dressing Peter Pam, the novel's voice of warmth and reason - become family. Into this quirky utopia come Vick Ward, a smooth-talking broker who entices Rita with a subprime mortgage and urges her to buy the ramshackle house she and her daughter have been renting.
FOR REVIEW:
The Universe Builders by Steve LeBel
We have all heard of the fabled perfect being, the Greek God. Well, how about a geek god? Named Bernie.
Fresh with his diploma from God School, determined but unsure, bright but without confidence, Bernie faces the challenge of building his own universe. If only it were that easy. . . .
An old school rival will do whatever it takes to ensure Bernie's failure, even if it means destroying his world.
It's god vs. god, guile vs. goodness, where only one of them plays by the rules. Bernie must find a way to outwit his evil foe. If he fails, it will cost him everything.
Anna by Meghan Riley
Anna has a lot of questions. She she pursue her desire to leave home for college and live out her dream of becoming a physicist? Or should she stay home and help care for her family, which has struggled ever since her father died in Afghanistan? Is her crush, Steve, really interested in her, or is he only using the highly intelligent Anna to try and boost his grades in school?
These questions, plus the ordinary trials and tribulations of high school, distract Anna from noticing some very. . . .strange things that are beginning to happen to her.
For as long as Anna can remember, she has had a haphazard smattering of freckles on her arm. But these freckles are starting to change, and cause a series of unnerving hallucinations and odd side effects that only Anna seems to notice. When a strange shadow man starts to haunt her nights, she decides to go on a hunt for the truth to discover, once and for all, what is happening to her. The hallucinations continue growing stronger, however, and each new visit by the shadow man appears to become more and more threatening. Eventually, Anna realizes that she can no longer hide from her friends and family what is happening to her.
But as she shares her secret with those closest to her, Anna never images that her very life, and the lives of those she loves, will be put on jeopardy.
Paws in the Piazza by Jerilyn McIntyre
"Back home, I was content to be just an ordinary house cat. I didn't get out much. But it's different here in Venice."
How different? Harley quickly finds out after his family arrives in Italy. He takes up with a group of local cats who roam wild in the alleys and neighborhoods of Venice, and meets the mysterious Angela, a beautiful white Angora who steals his heart. Then he becomes embroiled in a fierce and ongoing war between his friends and a rival band of cats, and discovers the magical order that underlies life in the enchanting and historic city that is his new home.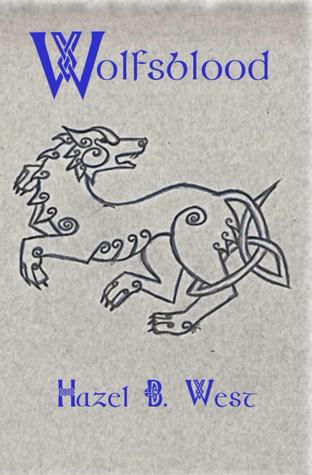 Wolfsblood by Hazel Wess
Alexandrus has been hoping for his promotion to centurion for a while, not only for his own personal gain, but to make his father, a wounded veteran, proud. However, promotion does not come in the way he expects.
He finds himself posted to a frontier on the Northern Border, commanding a cohort of Celtic auxiliaries. Chosen for his particular job because his grandmother was British and he speaks the language, he sets off for his new posting, leaving behind a disappointed father and the relatively comfortable life he has known in the south.
When he reaches the fort, he finds it the most horribly run plan he has ever seen. Men are sleeping on duty, no one seems to be motivated to do anything, and the decurion is "currently indisposed." He soon makes it his duty to join with the other centurions and whip the men into shape, but it proves difficult, for the fort is full of troublemakers, bot well-meaning and otherwise. But the lack of discipline is not the only thing strange about the new posting. Where are the horses if it's supposed to be a cavalry cohort? Who do most of the men seem to have strange golden eyes, and why is it that most of them have bite scars? It can't be that they were all so unlucky while hunting for wolf skins, could it? Alex disregards an old story he hears about a Druid curse, but when it comes to the night of his own initiation, he begins to wonder whether there is truth to it after all.
Spark by Anthea Sharp
Superstar gamer Spark Jaxley's life might look easy, but she's part of an elite few who guard a shocking secret; the Realm of Faerie exists, and its dark magic is desperate for a foothold in the mortal world.
Aran Cole hacks code and sells his gaming cheats on the black market. It's barely a living, and one's not proud of. But when he turns his skills to unlocking the secrets behind Feyland - the most exciting and immersive game on the market - he discovers power and magic beyond his wildest dreams.
Spark's mission is clear: pull Aran from the clutches of the fey folk and restore the balance between the worlds. But can she risk her life for someone who refuses to be rescued?
This Week, On The Reading Hedgehog...........
August 11, 2014 - Monday
August 12, 2014 - Tuesday
August 13, 2014 - Wednesday
August 14, 2014 - Thursday
August 15, 2014 - Friday
August 16, 2014 - Saturday
Next Week, On The Reading Hedgehog.............
August 18, 2014 - Monday
Review: Graduation Day - Joelle Charbonneau
August 19, 2014 - Tuesday
Top Ten Tuesday #58: Top 10 Books People Have Been Telling You That You MUST Read
Teaser Tuesday #19
August 20, 2014 - Wednesday
Waiting on Wednesday #59 + WWW Wednesday #29
August 21, 2014 - Thursday
Books to Movies: The Giver
August 22, 2014 - Friday
Review: Paws in the Piazza - Jerilyn McIntire
August 23, 2014 - Saturday
Guest Post: Deal Breakers