Waiting on Wednesday is hosted by
Breaking the Spine
.
It's a weekly meme about upcoming books we're excited about!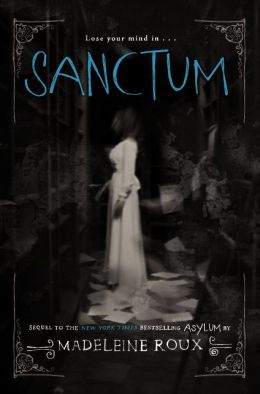 Sanctum
(Asylum #2)
by Madeleine Roux
Publication Date: August 26, 2014
From Goodreads:
Dan, Abby, and Jordan remain traumatized by the summer they shared in the Brookline asylum. Much as they'd love to move on, someone is determined to keep the terror alive, sending the teens photos of an old-timey carnival, with no note and no name. Forsaking their plan never to go back, the teens return to New Hampshire College under the guide of a weekend for prospective students, and there they realize that the carnival from the photos is not only real, it's here on campus, apparently for the first time in many years.
Sneaking away from sample classes and college parties, Dan and his friends lead a tour of their own - one through the abandoned houses and hidden places of the surrounding town. Camford is hiding a terrible past, and the influence of the asylum runs deeper than Dan ever imagined.
Why I'm Excited
The sequel to Asylum - a book I own, but haven't read yet. No matter; I'm still excited for its sequel. It sounds creepy and awesome!
The Rule of Thoughts
(The Mortality Doctrine #2)
by James Dashner
Publication Date: August 26, 2014
From Goodreads:
Michael completed the Path. What he found at the end turned everything he'd ever known about his life - and the world - completely upside down.
He barely survived. But it was the only way VirtNet Security knew to find the cyber-terrorist Kaine - and to make the Sleep safe for gamers once again. And, the truth Michael discovered about Kaine is more complex than they anticipated, and more terrifying than even the worst of their fears.
Kaine is a Tangent, a computer program that has become sentient. And Michael's completing the Path was the first stage in turning Kaine's master plan, the Mortality Doctrine, into a reality.
The Mortality Doctrine will populate the Earth entirely with human bodies harboring Tangent minds. Any gamer who sinks into the VirtNet risks coming out with a Tangent intelligence in control of their body.
And the takeover has already begun.
Why I'm Excited
Book #2 in The Mortality Doctrine - another series that I own the first book to, but haven't read it yet! But I will! And it's James Dashner, so I'm sure it'll be awesome!
What are you currently reading?
Fortune has smiled on seventeen-year-old Aileen McCormick ever since Addison came back into her life, giving her the love she has so desperately longed for. That is, until a mysterious man slithers across her path and slips a spellbinding cameo around her neck. The cameo holds more than just the image of an enchantress who hungers for souls. It possesses a curse that strangles away every memory Aileen has of Addison.
Addison, a three-hundred-year-old fugitive from the netherworld, recognizes the wretched woman inside the cameo and the curse she has cast on his unsuspecting love. The enchanted cameo has but one purpose: to torment Aileen with hints of love she can no longer recall.
Aileen cannot escape the deadly cameo. She runs for her life with the curse only a breath away. If she truly wants her memory back, the enchantress is all too willing to restore it. It will cost her, though. Cost her everything.
I'm not very far into this book - the sequel to Shadowflesh, which I have no read. And unfortunately, not reading the first book is making it hard for me to judge my thoughts and impressions on characters and situations. So far, though, it's relatively interesting.
What have you recently read?
She wants to put an end to the Testing.
In a scarred and brutal future, The United Commenwealth teeters on the brink of all-out civil war. The rebel resistance plots against a government that rules with cruelty and cunning. Gifted student and Testing survival, Cia Vale, vows to fight.
But she can't do it alone.
This is the chance to lead that Cia has trained for - but who will follow? Plunging through layers of danger and deception, Cia must risk the lives of those she loves - and gamble on the loyalty of her lethal classmates.
Who can Cia trust?
The stakes are higher than ever - lives of promise cut short or fulfilled; a future rules by fear or hope - in the electrifying conclusion to Joelle Charbonneau's epic Testing trilogy. Read or not. . . .it's Graduation Day.
Book #3 in The Testing trilogy, I gave this book 3/5 strawberries. It was good, I liked the characters, and it was a good ending to the trilogy. But the twist at the end felt pointless. It wasn't needed; it was just there because every book has to have twists. (No they don't).
What do you plan on reading next?
The circus arrives without warning. No announcements precede it. It is simply there, when yesterday it was not. Within the black-and-white striped canvas tents is an utterly unique experience full of breathtaking amazements. It is called Le Cirque des Reves, and it is only open at night.
But behind the scenes, a fierce competition is underway: a duel between two young magicians, Celia and Marco, who has been trained since childhood expressly for this purpose by their mercurial instructors. Unbeknownst to them both, this is a game in which only one can be left standing. Despite the high stakes, Celia and Marco soon tumble headfirst into love, setting off a domino effect of dangerous consequences, and leaving the lives of everyone, from the performers to the patrons, hanging in the balance.
The Booksplosion pick for August and a book I've been dying to read! So I'm reading it next! It may be the last book I read in August, given its length, but that's all right!