Waiting on Wednesday is hosted by
Breaking the Spine
.
It's a weekly meme about upcoming books we're excited about!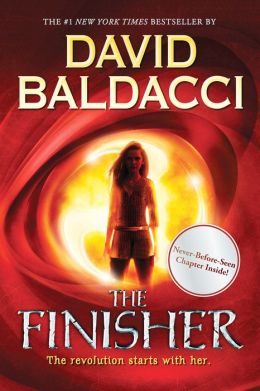 by David Baldacci
Publication Date: March 4, 2014
From Goodreads:
In The Finisher, a 14-year-old girl named Vega Jane lives in a village called Wormwood where the citizens have been told that the forest surrounding them is full of monsters. When Vega's mentor disappears, leaving behind a secret message, she begins to realize that Wormwood is a village built on dangerous lies.
Why I'm Excited
It just sounds interesting. And I'm curious to see how well David Baldacci does as a YA writer, since he's so famous in the Adult literature world. But mostly, it joust sounds interesting.
The Shadow Prince
(Into the Dark #1)
by Bree Despain
Publication Date: March 11, 2014
From Goodreads:
Haden Lord, the disgraced prince of the Underrealm, has been sent to the mortal world to entice a girl into returning with him to the land of the dead. Posing as a student at Olympus Hills High - a haven for children of the rich and famous - Haden must single out the one girl rumored to be able to restore immortality to his race.
Daphne Raines has dreams much bigger than her tiny southern Utah town, so when her rock star dad suddenly reappears, offering her full tuition to Olympus Hills High's prestigious music program, she sees an opportunity to catch the break she needs to make it as a singer. But upon moving into her estranged father's mansion in California, and attending her glamorous new school, Daphne soon realizes she isn't the only student in Olympus who doesn't quite belong.
Haden and Daphne - destined for each other - know nothing of the true stakes their fated courtship entails. As war between the gods brews, the teenagers' lives collide. But Daphne won't be wooed easily and when it seems their prophesied link could happen, Haden realizes something he never intended - he's fallen in love. Now to save themselves, Haden and Daphne must rewrite their destinies. But as their destinies change, so do the fates of both their worlds.
Why I'm Excited
It sounds like it could be good . . . . or bad. A cheap Percy Jackson ripoff. Most other Greek-gods-in-modern-times are cheap Percy Jackson ripoffs, but I always hold out hope that someone will actually write a good one. No such real luck as of yet. So long as the romance isn't focused on too much (which is always a hope, but rarely realized), it should be relatively interesting.
What are you currently reading?
Nadia, Mateo, and Verlaine have saved Captive's Sound from the dark Sorceress Elizabeth . . . or so they thought. Despite their best efforts, a crack opened and a new, greater evil seeped through. With Mateo as her Steadfast, Nadia's magic is magnified and she is more powerful than ever. But there is still so much she doesn't know about the craft, leaving her open and vulnerable to a darker magic . . . which has begun to call Nadia's name.
The sequel to Spellcaster. I have an ARC of this book (due for publication March 4, 2014), so I'm reading it for obvious reasons. That and I actually really like this series! It's so well done! I'm only on chapter two, so I can't say much about Steadfast yet.
What have you recently read?
When Nadia's family moves to Captive's Sound, she instantly realizes there's more to it than meets the eye. Descended from witches, Nadia senses a dark and powerful magic at work in her new town. Mateo has lived in Captive's Sound his entire life, trying to dodge the local legend that his family is cursed - and that curse will cause him to believe he's seeing the future . . . until it drives him man. When the strange dreams Mateo has been having of rescuing a beautiful girl - Nadia - from a car accident come true, he knows he's doomed.
Despite the forces pulling them apart, Nadia and Mateo must work together to break the chains of his family's terrible curse, and to prevent a disaster that threatens the lives of everyone around them.
I gave this book 3 strawberries, though in actuality I would like to give it 3.5 strawberries. It's a really fun modern witch/paranormal romance story. The romance is done well, the characters are fun, and the plot is dark and intriguing. I didn't think I would like this book all that much, but I did really like it.
What do you plan on reading next?
In this third book in the bestselling
Lunar Chronicles
series, Cinder and Captain Thorne are futivies on the run, with Scarlet and Wolf in tow. Together, they're plotting to overthrow Queen Levana and her army.
Their best hope lies with Cress, who has been trapped on a satellite since childhood with only her netscreens as company. All that screen time has made Cress an excellent hacker - unfortunately, she's just received orders from Levana to track down Cinder and her handsome accomplice.
When a daring rescue goes awry, the group is separated. Cress finally has her freedom, but it comes at a high price. Meanwhile, Queen Levana will let nothing step her marriage to Emperor Kai. Cress, Scarlet, and Cinder may not have signed up to save the world, but they may be the only ones who can.
Oh my gosh, I cannot wait to dig into this book! I have been waiting so long for it, and I've had so many other books in the way, and now I can actually sit down and read it! This weekend (or whenever I get to start reading Cress), I'm not doing anything else but reading.