Waiting on Wednesday is hosted by
Breaking the Spine
.
It's a weekly meme about upcoming books we're excited about!
by J. Nelle Patrick
Publication Date: February 27, 2014
From Goodreads:
Natalya knows a secret. A magical Faberge egg glows within the walls of Russia's Winter Palace. It holds a power rooted in the land and stolen from the mystics. A power that promises a life of love for her and Alexei Romanov. Power, that, in the right hands, can save her way of life. But it's not in the right hands.
Why I'm Excited
It's not the most informative synopsis, I'll agree on that. But it is intriguing. This era has always fascinated me, of course, as have the Romanovs (I know, I know; the disappearance of Anastasia has been solved - she did in fact die. A part of me still likes to think otherwise, though). And Russia is interesting in any point in history. Historical fantasy has grown on me considerably over the years, and it's been a while since I've read a good historical fantasy novel. This one sounds very interesting indeed.
Gilded
by Christina Farley
Publication Date: March 1, 2014
From Goodreads:
Sixteen-year-old Jae Hwa Lee is a Korean-American girl with a black belt, a deadly proclivity with steel-tipped arrows, and a chip on her shoulder the size of Korea itself. When her widowed dad uproots her to Seoul from her home in L. A., Jae thinks her biggest challenges will be fitting into a new school and dealing with her dismissive Korean grandfather. Then she discovers that a Korean demi-god, Haemosu, has been stealing the soul of the oldest daughter of each generation in her family for centuries. And she's next.
But that's not Jae's only problem.
There's also Marc. Irresistible and charming, Marc threatens to break the barriers around Jae's heart. As the two grow closer, Jae must decide if she can trust him. But Marc has a secret of his own - one that could help Jae overturn the curse on her family for good. It turns out that Jae's been wrong about a lot of things: her grandfather is her greatest ally, even the tough girl can fall in love, and Korea might just be the home she's always been looking for.
Why I'm Excited
I don't have high hopes for Jae as a protagonist. A kick-butt girl with a chip on her shoulder the size of Korea? Sounds like the type of chick protagonist I hate. But the plot sounds interesting - Percy Jackson meets Korean mythology. I'm willing to risk the irritating characters and shoddy love interest to see if maybe the plot overshadows those shortcomings. And who knows - the synopsis could be lying.
What are you reading right now?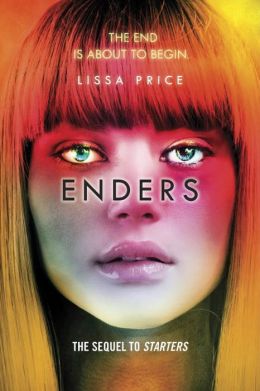 With the Prime Destinations body bank destroyed, Callie no longer has to rent herself out to creepy Enders. But Enders can still get inside her mind and make her do things she doesn't want to do. Like hurt someone she loves. Having the chip removed could save Callie's life - but it could also silence the voice in her head that might belong to her father. Callie has flashes of her ex-renter Helena's memories, too . . . . and the Old Man is back, filling her with fear. Who is real and who is masquerading in a teen body?
I literally just started reading this last night, and I'm only a chapter in. But already I'm pretty excited. Having re-read Starters a few days back, I like this duology a whole lot more than I originally did (and I liked it even then). And the sequel promises to be awesome, so long as the love triangle doesn't become an issue.
What have you read recently?
It will soon be another cold winter in the Ukraine. But it's 1941, and things are different this year. Max, the devoted caretaker of an animal preserve, must learn to live with the Nazis who have overtaken this precious land. He must learn to keep secrets - for there is a girl, Kalinka, who is hiding in the park.
Kalinka has lost her home, her family, her belongings - everything but her life. Still, she has gained one small, precious gift: a relationship with the rare wild and wily Przewalski's horses that wander the preserve. Aside from Max, these endangered animals are her only friends - until a Nazi campaign of extermination nearly wipes them out for good.
Now Kalinka must set out on a treacherous journey across the frozen Ukrainian forest to save the only two surviving horses - and herself.
I read an ARC of this book, due for publication on March 25th. I normally like books like this. I knew it would be sad with Nazis killing horses, so I wasn't surprised when I started bawling my eyes out at certain points in the book. But that isn't what made it earn its rather low 2-strawberry rating. The writing wasn't very good. This is a YA novel, but it's very juvenilely written, and the dialogue is often far too explanatory of current events. The characters are living what's happening - why would they have to explain some of the things they're explaining to each other? They would already know. The characters were good, but Kalinka's reaction to everything was surprisingly nonchalant. She took on an attitude of, "Oh dear; oh well, let's move on." And the SS soldiers weren't all that terrifying. Then there are the Przewalski's horses. Ponies are smart - I know this first hand living around my three Welshes. And Przewalski's are known for their cunning. But the degree of cunning and understanding the two horses display in this book pushed the bounds of reality and came across as silly.
What do you plan on reading next?
Last summer, Mackenzie Bishop, a Keeper tasked with stopping violent Histories from escaping the Archive, almost lost her life to one. Now, as she starts her junior year at Hyde School, she's struggling to get her life back. But moving on isn't easy - not when her dreams are haunted by what happened. She knows the past is past, knows it cannot hurt her, but it feels so real, and when her nightmares begin to creepy into her waking hours, she starts to wonder if she's really safe.
Meanwhile, people are vanishing without a trace, and the only thing they seem to have in common is Mackenzie. She's sure the Archive knows more than they are letting on, but before she can prove it, she becomes the prime suspect. And unless Mac can track down the real culprit, she'll lose everything, not only her role as Keeper, but her memories, and even her life. Can Mackenzie untangle the mystery before she herself unravels?
A friend and I are going to meet Victoria Schwab on the 15th! So we're doing a buddy read this coming Saturday to get through her books. Snacks, snuggly blankets, hot drinks, and lots of books. I'm really excited for the sequel to
The Archived
; it sounds amazing.