Today's Top Ten Tuesday topic is any topic of my choice! Well, sort of. This is my opportunity to redo any past TTT topics or maybe do ones that I missed. So my choice for this week: Top 10 Books I'm Glad Were Recommended to Me. (NOTE: Apparently this is next week's Top Ten Tuesday topic; I got them switched, but am too lazy to fix it).
The Ruins of Gorlan by John Flanagan
Book #1 in the Ranger's Apprentice series. I'm so glad my friend Trinity recommended this book to me, otherwise I might never have discovered John Flanagan's books! I will always love these books, even the ones that aren't as good as the others.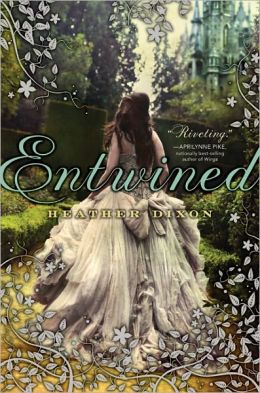 Entwined by Heather Dixon
A retelling of The Twelve Dancing Princesses fairy tale. I love fairy tale retellings, and this is one of my favorite fairy tales, so obviously I was excited when my librarian friend Linda told me about this one. Oh my gosh, such a good book; one of my favorites.
Cinder by Marissa Meyer
Book #1 in The Lunar Chronicles. It took forever for me to actually read this book. I had seen it several times, read its synopsis, and decided it sounded too weird to be any good. Cinderella a cyborg? Not for me, thanks. Finally, I did, though, after my librarian friend Lisa went on and on about it. So glad I did, because it's awesome!
The Hunger Games by Suzanne Collins
Book #1 in what I like to refer to as The Panem Trilogy. Another librarian friend - Sheri - recommended this to me, and with a library event coming up involving this series, I decided to take her up on her recommendation and read it. I won't say that these are some of the world's best books, but they are fun and entertaining. I might never have picked them up because of their popularity.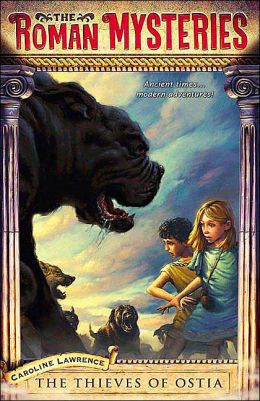 The Thieves of Ostia by Caroline Lawrence
I suppose that this wasn't exactly a recommendation. But my sister was the one who found it and told me I might like it. The Roman Mysteries was my absolute favorite series as a kid, and I still hold a lot of affection for it. The first eight books are good; it's after that that it got a little strange and drawn out.
A Spy in the House by Y. S. Lee
Book #1 in The Agency series. My librarian friend Linda is the one who recommended this to me. I had seen it, but didn't get a chance to read it. So she lent me her copy (before she was even done reading it!), and yes, this series does have flaws, but it's still a really fun series.
Inkheart by Cornelia Funke
Book #1 in the Inkworld Trilogy. I don't remember who recommended this to me. This was one of those books that when I first read it, I didn't actually like it all that much, but I said I did, because I knew that it was the mood I was in that was keeping me from liking it. By Inkdeath, I loved the series, so I'm very glad that this book was recommended to me. It's my No. #1 comfort read.
The Perilous Gard by Elizabeth Marie Pope
I believe this was recommended to me by my librarian friend Kate. It's been a long time since I've read this book, mostly because it's hard to find a hardcover copy of it. But I recall really, really liking this book. A very good medieval story with a romantic interest I had a crush on.
The Darkest Minds by Alexandra Bracken
Book #1 in The Darkest Minds trilogy. An employee at Barnes & Noble recommended this book to me. I was looking at it, debating whether or not I should add it to my TBR, and the lady came up and started telling me all about it. This is one of those books that the more I think about it, the more I realize just how much I really did like it.
Howl's Moving Castle by Diana Wynne Jones
I don't remember who recommended this one, either, but I'm glad they did! It's such a hilarious book; one of my favorites. It's got great characters, great inanimate objects that are, in fact, animate (but shouldn't be), and a great storyline.