Waiting on Wednesday is hosted by
Breaking the Spine
.
It's a weekly meme about upcoming books we're excited about!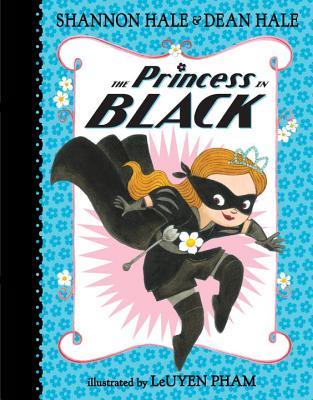 by Shannon Hale
Publication Date: October 14, 2014
From Goodreads:
Who says princesses don't wear black? When trouble raises its blue monster head, Princess Magnolia ditches her flouncy dresses and becomes the Princess in Black!
Princess Magnolia is having hot chocolate and scones with Duchess Wigtower when. . . .Brring! Brring! The monster alarm! A big blue monster is threatening the goats! Stopping monsters is no job for dainty Princess Magnolia. But luckily Princess Magnolia has a secret - she's all the Princess in Black, and stopping monsters is the perfect job for her! Can the princess sneak away, transform into her alter ego, and defeat the monster before the nosy duchess discovers her secret?
Why I'm Excited
One, it's a Shannon Hale book. Two, I have a weakness for kids' chapter books. Three, this just sounds too adorable!
Snow Like Ashes
(Snow and Ashes #1)
by Sara Raasch
Publication Date: October 14, 2014
From Goodreads:
A heartbroken girl. A fierce warrior. A hero in the making.
Sixteen years ago, the Kingdom of Winter was conquered and its citizens enslaved, leaving them without magic or a monarch. Now, the Winterians' only hope for freedom is the eight survivors who managed to escape, and who have been waiting for the opportunity to steal back Winter's magic and rebuild the kingdom ever since.
Orphaned as an infant during Winter's defeat, Meira has lived her whole life as a refugee, raised by the Winterians' general, Sir. Training to be a warrior - and desperately in love with her best friend, and future king, Mather - she would do anything to help her kingdom rise to power again.
So when scouts discover the location of the ancient locket that can restore Winter's magic, Meira decides to go after it herself. Finally, she's scaling towers, fighting enemy soldiers, and serving her kingdom just as she's always dreamed she would. But the mission doesn't go as planned, and Meira soon finds herself thrust into a world of evil magic and dangerous politics - and ultimately comes to realize that her destiny is not, never has been, her own.
Why I'm Excited
Another fantasy series! I'm so happy there's so many new YA fantasy series! And this one sounds awesome. A little worried about the romance, but synopsis sometimes put more emphasis on that than there actually is in the story. Plus, there's no mention of a love triangle!
What are you currently reading?
What if God got a C- in Universe Building 101?
(Well, not our God, of course. One of those other guys. . . .)
Dive into a humorous fantasy world unlike anything you have imagined. A world of gods and goddesses who build universes fora living. Are they all-powerful and all-knowing? Well, not exactly. . . .
As Bernie graduates from God School, he is thrilled to land his dream job as a builder of universes. His first assignment is to build his own universe. Determined but unsure, bright but without confidence, Bernie forges ahead, only to find problems everywhere. Mysterious asteroids, unexplained volcanoes, shifting continents and more lead him to suspect sabotage. But who could sabotage his universe? Only another god could do that.
It's god vs. god, guile vs. goodness, where only one of them plays by the rules. Bernie must find a way to outwit his vicious foe. If he fails, it will cost him everything.
A fascinating tale of good vs. evil and a young her on a journey of self-discovery in an original, humorous, fantastic wrapper.
This was sent to me for review, and I am almost 200 pages in. I don't really want to say too much about my thoughts at this point. As it stands right now, I like the general idea, but am starting to get pretty bored. But this is a 400-page book and I am still giving it a chance.
What have you recently read?
Match wits with Lemony Snicket to solve thirteen mini-mysteries. Paintings have been falling off of walls, a loud and loyal dog has gone missing, a specter has been seen walking the pier at midnight - strange things are happening all over the town of Stain'd-by-the-Sea. Called upon to investigate thirteen suspicious incidents, young Lemony Snicket collects clues, questions witnesses, and cracks every case. Join the investigation and tackle the mysteries alongside Snicket, then turn to the back of the book to see the solution revealed.
A delicious read that welcomes readers into Lemony Snicket's world of deep mystery, mysterious depth, deductive reasoning, and reasonable deductions.
A companion novel to Snicket's newest series All the Wrong Questions, I gave this 4/5 strawberries. I am extremely biased when it comes to Snicket; I grew up with his books, and I don't think I could ever dislike any of them. This was a lot of fun, but also characteristically frustrating, because I know there's more to it than meets the eye. There's codes and I no longer have the leisure time to crack them! But I loved this collection of short stories.
What do you plan on reading next?
It's been decades since anyone set foot on the moon. Now three ordinary teenagers, the winners of NASA's unprecedented, worldwide lottery, are about to become the first young people in space - and change their lives forever. Mia, from Norway, hopes this will be her punk band's ticket to fame and fortune. Midori believes it's her way out of her restrained life in Japan. Antoine, from France, just wants to get as far away from his ex-girlfriend as possible.
It's the opportunity of a lifetime, but little do the teenagers know that something sinister is waiting for them on the desolate surface of the moon. And in the black vacuum of space. . . .no one is coming to save them.
In this chilling adventure set in the most brutal landscape known to man, highly acclaimed Norwegian novelist Johan Harstad creates a vivid and frightening world of possibilities we can only hope not come true.
I've been hearing nothing but creepily good things about this book, and I have been dying to read it ever since I got my hands on it!