This week's topic: Top 10 New Series I Want to Start (new = series published in the last 2 years). Honestly? I don't want to start any new series. I have plenty right now that I need to finish. But I still have several on my list, so I'll put them here.
Shatter Me Trilogy by Tahereh Mafi.
I've been on the fence about this trilogy for a while. I've heard a lot of good things about it, but it also sounds very sappy. I don't like sappy. However, the reviews for the last book has me very curious now, so I would like to start this trilogy as some point. Soon.
Mara Dyer Trilogy by Michelle Hodkin.
Another one I've been on the fence about. But the more I find out about it, the more I'm realizing that it isn't what I initially thought it was. And trusted book friends have told me that it totally messed with your head and you won't want to stop reading. So, I'm reading it!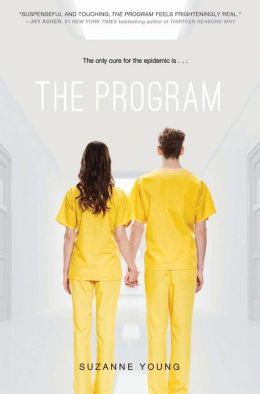 The Program Duology by Suzanne Young.
I've been meaning to start this duology for a while. I've checked it out from the library several times and just haven't gotten a chance to read it. It's on my priority list now, though. It will be the next duology I buy.
Enclave Trilogy by Ann Aguirre.
I suspect that this a zombie trilogy; in fact, I'm quite certain of it. But I have heard good things about it, including people who don't like zombie fiction (like me). So I'm curious enough to start this series.
The Blackwell Pages Series by K. L. Armstrong & M. A. Marr.
It sounds awesome! A bit like Percy Jackson, and I'm always on the lookout for Rick Riordan-like series.
Dark Passages Trilogy by Ilsa J. Bick.
Inkheart meets. . . .something else. It sounds awesome, and have this first book in the trilogy, so I really ought to get cracking and read it.
The Goddess Wars by Kendare Blake.
I have Book #1 and Book #2, and I need to read this series now! Because I just need to. I've heard great things about it so far!
Red Rising Trilogy by Pierce Brown.
I have heard nothing but good things about this new dystopian/futuristic/sci-fi trilogy. I really, really, really want to read it.
Dualed Duology by Elsie Chapman.
Another duology that I own, but have not yet started. Actually, I need to buy the second book before I start the first (or maybe read the first so I can buy the second. . . .). Anyway, it's on priority list.
The Land of Stories Series by Chris Colfer.
I own all of the currently published novels in this series, and just haven't started it yet. I've been missing something like The Sisters Grimm, and this is quite a bit like it, I have been told.
- Grab the book you're currently reading.
- Flip to a random page.
- Share 2 teaser sentences from that page!
Dr. King kept speaking as though she had said nothing. "Now we have the solution to save the lives of those who would have been donors. With today's technology, with Haven Hospitals and Halls, we can have an exact match for you. We can save your loved ones. And you know about losing someone you love, don't you?" The Haven by Carol Lynch Williams (pg. 127)