PRE-ORDERS
Blue Lily, Lily Blue by Maggie Stiefvater
There is danger in dreaming. But there is even more danger in waking up.
Blue Sargent has found things. For the first time in her life, she has friends she can trust, a group to which she can belong. The Raven Boys have taken her in as one of their own. Their problems have become hers, and her problems have become theirs.
The trick with found things, though, is how easily they can be lost.
Friends can betray. Mothers can disappear. Visions can mislead. Certainties can unravel.
BOUGHT
Return to Lost City by Scott Ciencin
Andrew and Lian pay a return visit to their old friends in Lost City, the secluded home of a noble tribe of Troodon knights. When they arrive, they learn that an elder Troodon named Blundertail is leaving on a crazy quest to prove he's still a great champion. Andrew, Lian, and their Troodon friend Arri are asked to follow the old knight to keep him from wreaking too much havoc on the citizens of Dinotopia. But the young friends soon find out that his quest is not so crazy after all - and the lives of an entire saurian community may hang in the balance.
The Explorers by Scott Ciencin
Long ago, there lived five brave Troodon knights who loved adventure. Calling themselves the Explorers Club, they undertook many dangerous quests to help their fellow Dinotopians. When five young descendants of these knights hear the heroic tales of their ancestors, they become inspired to form a brand-new Explorers Club. Pointynog the clever, Snicknik the quick, Harshell the strong, Seeno the stealthy, and Plodnob the jovial say they are ready for any challenge! But the original Explorers Club was made up of experienced Troodon knights. Can these junior knights-in-training live up to their ancestors' legend?
Dolphin Watch by John Vornholt
Milos and his Cryptoclidus friend Lilith spend their days at the beach, hanging out with the dolphins and welcoming the shipwreck survivors the dolphins save. Every "dolphinback" Milos has known has grown to love Dinotopia, except one: Joshua, a young man who cannot accept the fact that he'll never go home. Only swimming with the dolphins makes him happy. Until the day a rescue ship is spotted just beyond the reef. . . .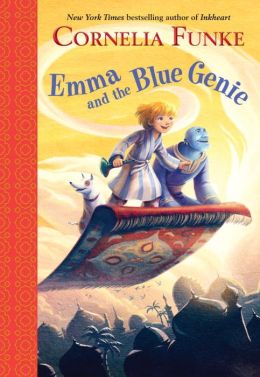 Emma and the Blue Genie by Cornelia Funke
What if a genie had no wishes?
One dark night, Emma finds a mysterious green bottle floating in the ocean. When she pulls out the stopper, she sets a blue genie free!
Most genies grant three wishes, but Karim can't grant even one anymore. A yellow genie stole his magic nose ring, leaving him small, powerless, and trapped in that bottle. Emma and her noodle-haired dog have to help Karim get his nose ring - and his magic - back!
Mortal Gods by Kendare Blake
Ares, god of war, is leading the other dying gods into battle. Which is just fine with Athena. She's ready to wage a war of her own, and she's never liked him anyway. If Athena is lucky, the winning gods will have their immortality restored. If not, at least she'll have killed the bloody lot of them, and she and Hermes can die in peace.
Cassandra Weaver is a weapon of fate. The girl who kills gods. But all she wants is for the god she loved and lost to return to life. If she can't have that, then the other gods will burn, starting with his murderer, Aphrodite.
The alliance between Cassandra and Athena is fragile. Cassandra suspects Athena lacks the will to truly kill her own family. And Athena fears that Cassandra's hate will get them all killed.
The war takes them across the globe, searching for lost gods, old enemies, and Achilles, the greatest warrior the world has ever seen. As the struggle escalates, Athena and Cassandra must find a way to work together. Because if they can't, fates far worse than death await.
The Cure for Dreaming by Cat Winters
On October 31, 1900, the mesmerizing Henri Reverie will perform his hypnotic feats.
Stand when commanded! Speak when commanded! Think when commanded!
Let Monsieur Reverie control your mind & who knows what you will see. . . .
Olivia Mead's father wants to eliminate her rebellious thoughts. But the hypnotist he hires to stamp out her independence ends up giving her a gift: the ability to see people as they really are.
Monsters. Victims. Madmen. Friends.
Terrifying and enlightening, Olivia's visions tell he who is trustworthy and who is dangerous. But only she can find a way to make her mind her own again.
Snow Like Ashes by Sara Raasch
Sixteen years ago the Kingdom of Winter was conquered and its citizens enslaved, leaving them without magic or a monarch. Now the Winterians' only hope for freedom is the eight survivors who managed to escape, and who has been waiting for the opportunity to steal back Winter's magic and rebuild the kingdom ever since.
Orphaned as an infant during Winter's defeat, Meira has lived her whole life as a refugee, raised by the Winterians' general, Sir. Training to be a warrior - and desperately in love with her best friend and future king, Mather - she would do anything to help Winter rise to power again.
So when scouts discover the location of the ancient locket that can restore their magic, Meira decides to go after it herself. Finally, she's scaling towers and fighting enemy soldiers just as she's always dreamed she would. But the mission doesn't go as planned, and Meira soon finds herself thrust into a world of evil magic and dangerous politics - and ultimately comes to realize that her destiny is not, never has been, her own.
Clariel by Garth Nix
Clariel is the daughter of one of the most notable families in the Old Kingdom, with blood relations to the Abhorsen and, most importantly, to the King. When her family moves to the city of Belisaere, there are rumors that her mother is next in line for the throne. However, Clariel wants no part of it - a natural hunter, all she ever thinks about is escaping the city's confining walls and journeying back to the quiet, green world of the Great Forest.
But many forces conspire against Clariel's dream. A dangerous Free Magic creature is loose in the city, her parents want to marry her off to a killer, and there is a plot brewing against the old and withdrawn King Orrikan. When Clariel is drawn into the efforts to find and capture the creature, she finds hidden sorcery within herself, yet it is magic that carries great dangers. Can she rise above the temptation of power, escape the unwanted marriage, and save the King?
This Week, On The Reading Hedgehog.......
October 13, 2014 - Monday
October 14, 2014 - Tuesday
October 15, 2014 - Wednesday
October 16, 2014 - Thursday
October 17, 2014 - Friday
October 18, 2014 - Saturday
Next Week, On The Reading Hedgehog.........
October 20, 2014 - Monday
Review: The Minister's Daughter - Julie Hearn
October 21, 2014 - Tuesday
Top Ten Tuesday #62: Top 10 New Series I Want to Start
Teaser Tuesday #23
October 22, 2014 - Wednesday
Waiting on Wednesday #64 + WWW Wednesday #34
October 23, 2014 - Thursday
Review: City of Ashes - Cassandra Clare
October 24, 2014 - Friday
Review: The Screaming Staircase - Jonathan Stroud
October 25, 2014 - Saturday
Guest Post: Author Behavior