Waiting on Wednesday is hosted by
Breaking the Spine
.
It's a weekly meme about upcoming books we're excited about!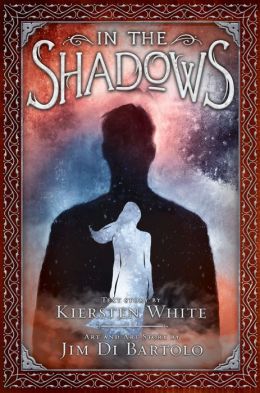 by Kiersten White
Publication Date: April 29, 2014
From Goodreads:
Cora and Minnie are sisters living in a small, stifling town where strange and mysterious things occur. Their mother runs the local boarding house. Their father is gone. The woman up the hill may or may not be a witch.
Thomas and Charles are brothers who've been exiled to the boarding house so Thomas can tame his ways and Charles can fight an illness that is killing him with increasing speed. Their family history is one of sorrow and guilt. They think they can escape from it . . . but they can't.
Why I'm Excited
As usual, maybe I shouldn't be. I haven't read any of Kiersten White's books yet - though The Chaos of Stars has been on my list for quite some time, and I just haven't found an opportunity to pick it back up. The plot sounds intriguing (and the cover is quite interesting), but with a male character who is having to "tame his ways" in the same boarding house as two sisters . . . . I suspect a love triangle, or at least some sort of romance going on. And I get the feeling that Thomas will fall into the category of male character that no girl should want to date.
The Door
by Andy Marino
Publication Date: April 29, 2014
From Goodreads:
For years, the door has stayed closed. Hannah Silver hardly notices it as she goes about her strange life in an isolated lighthouse. But when a pair of mysterious strangers - a boy and his guardian - show up at the lighthouse, things start to go very wrong. Hannah's life is shattered. And the door is now wide open.
In order to save herself and her family, Hannah must walk through this door.
Into another world.
A world she doesn't belong.
A world that wants to capture her and make sure she never makes it back home.
Why I'm Excited
It sounds awesome! I've always loved stories that begin with a door that should never - and has never - been opened. And then it suddenly is. And there's a mysterious world behind it (or some force that should never be unleashed, though I prefer the mysterious world).
What are you currently reading?
After being separated from her sister and sold to a cruel goat farmer, Astri makes a daring escape. She quickly retrieves her little sister, and, armed with a troll treasure, a book of spells and curses, and a possibly magic hairbrush, they set off for America. With a mysterious companion in tow and the malevolent "goatman" in pursuit, the girls head over the Norwegian mountains, through field and forest, and in and out of folktales and dreams as they steadily make their way east of the sun and west of the moon.
You know me - I love fairy tale retellings. And this is actually a rather unique retelling of one of my favorite fairy tales: East of the Sun, West of the Moon. I'm about halfway done with it and it's a lot of fun. Astri has some real spunk.
What have you recently read?
The Yellowstone supervolcano nearly wiped out the human race. Now, almost a year after the eruption, the survivors seem determined to finish the job. Communities wage war on each other, gangs of cannibals roam the countryside, and what little government survived the eruption has collapsed completely. The ham radio has gone silent. Sickness, cold, and starvation are the survivors' constant companions.
When it becomes apparent that their home is no longer safe and adults are not facing the stark realities, Alex and Darla must create a community that can survive the ongoing disaster, an almost impossible task requiring even more guts and more smarts than ever - and unthinkable sacrifice. If they fail . . . they, their loved ones, and the few remaining survivors will perish.
After my disappointing and downright irritating experience with the second book in this trilogy - Ashen Winter - I did not expect to like Sunrise at all. So I was pleasantly surprised to be able to give this final book in the trilogy a 3-strawberry rating. It went back to being as good as Ashfall. Things happened, I could like Darla and Alex again (though I never will like them as much as I did before in Book #1), and I found my interest level to be regained. Still, the book did drag in areas, and there were some characters that I just wanted to die, and could not understand why the Author insisted on creating unnecessary tension with their presence.
What do you plan on reading next?
"Now, for those of you who know anything about blind children, you are aware that they make the very best thieves. As you can well imagine, blind children have incredible senses of smell, and they can tell what lies behind a locked door - be it fine cloth, gold, or peanut brittle - at fifty paces. Moreover, their fingers are so small and nimble that they can slip right through keyholes, and their ears so keen that they can hear the faint clicks and clacks of every moving part inside even the most complicated lock. Of course, the age of great thievery has long since passed; today there are few child-thieves left, blind or otherwise.
At one time, however, the world was simply thick with them. This is the story of the greatest thief who ever lived. His name, as you've probably guessed, is Peter Nimble."
Hardly a new book any longer, I have an ARC of the sequel/companion book - The Night Gardener. I don't know if it's a direct sequel or just a novel that takes place in the same world as this one. Either way, I always like to read the first book, um, first. So that's what I'm going to do!