Waiting on Wednesday is hosted by
Breaking the Spine
.
It's a weekly meme about upcoming books we're excited about!
The Boundless
by Kenneth Oppel
Publication Date:
April 22, 2014
From Goodreads:
The Boundless
, the greatest train ever built, is on its maiden voyage across the country, and first-class passenger Will Everett is about to embark on the adventure of his life!
When Will ends up in possession of the key to a train car containing priceless treasures, he becomes the target of sinister figures from his past.
In order to survive, Will must join a traveling circus, enlisting the aid of Mr. Dorian, the ringmaster and leader of the troupe, and Maren, a girl his age who is an expert escape artist. With villains fast on their heels, can Will and Maren reach Will's father and save
The Boundless
before someone winds up dead?
Why I'm Excited
Priceless treasures! Sinister figures! A
traveling circus with a female escape artist!!!!!
That just sounds awesome beyond words! I must have this book!
by Tania Unsworth
Publication Date: April 29, 2014
From Goodreads:
Devin doesn't remember life before the world got hot; he has grown up farming the scorched earth with his grandfather in their remote valley. When his grandfather dies, Devin heads for the city. Once there, among the stark glass buildings, he finds scores of children, just like him, living alone on the streets. They tell him rumors of a place for abandoned children, with unlimited food and toys and the hope of finding a new family. But only the luckiest get there.
An act of kindness earns Devin an invitation to the home, but it's soon clear that it's no paradise. As Devin investigates the intimidating administrator and the zombie-like sickness that afflicts some children, he discovers the home's horrific true mission. The only real hope is escape, but the place is as secure as a fortress.
Why I'm Excited
I was able to read an ARC of this book, and oh my gosh, was it good! So, so creepy and not at all what I was expecting. So mostly I'm just excited to get my paws on a beautiful hardcover with its shiny dust jacket and add it to my collection.
What are you currently reading?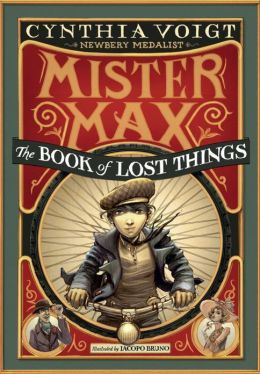 Max Starling's theatrical father likes to say that at twelve a boy is independent. He also likes to boast (about his acting skills, his wife's acting skills, a fortune only his family knows is metaphorical), but more than anything he likes to have adventures. Max Starling's equally theatrical mother is not a boaster but she enjoys a good adventure as much as her husband. When these two disappear, what can sort-of-theatrical Max and his not-at-all theatrical grandmother do? They have to wait to find out something, anything, and to worry, and, in Max's case, to figure out how to earn a living at the same time as he maintains his independence.
I'm not quite halfway through this book, and I'm really enjoying it. It's kinda quirky and a little bit Snickety, but really fun. Max is quite a character and I am quite certain that the Starlings' "metaphorical fortune" is not metaphorical at all.
What have you recently read?
Cecilia Undergarment likes a challenge. So when she discovers a sad and neglected dog, she is determined to rescue him. No matter what. But her daring dog rescue lands her in deep trouble. Trouble in the form of being lost in the dark forest of Northwood. A forest where ferocious black lions roam. A forest that hides a secret castle, an unlikely king and many a mystery. A forest where those who enter never return. But Cecilia is determined to find her way home. No matter what.
I gave this Middle Grade fantasy 2/5 strawberries. It was okay. The names of characters were silly - and not in a charming Roald Dahl way, - the writing style felt like it talked down to its audience, rather than to it, the world was just kind of odd and not very well thought out, and the conclusion left much to be desired. The illustrations were very charming, though.
What do you plan on reading next?
The Yellowstone supervolcano nearly wiped out the human race. Now, almost a year after the eruption, the survivors seem determined to finish the job. Communities wage war on each other, gangs of cannibals roam the countryside, and what little government survived the eruption has collapsed completely. The ham radio has gone silent. Sickness, cold, and starvation are the survivors' constant companions.
When it becomes apparent that their home is no longer safe and adults are not facing the stark realities, Alex and Darla must create a community that can survive the ongoing disaster, an almost impossible task requiring even more guts and more smarts than ever - and unthinkable sacrifice. If they fail . . . they, their loved ones, and the few remaining survivors will perish.
The third and final book in the Ashfall Trilogy. Am I looking forward to reading this? No. But I have an ARC and it must be read before the official release. After my experience with Book #2, though, I am totally dreading reading this. I am so sick of Darla and Alex and starvation and hard winters. I really, really hope the Author has changed the tempo of this book.