Today's Top Ten Tuesday topic: Top 10 All Time Favorite Books in X Genre. What does the X stand for? I get to choose the genre! And I choose . . . . . fairy tale retellings! I almost went with Victorian mysteries, but I'll go with this instead.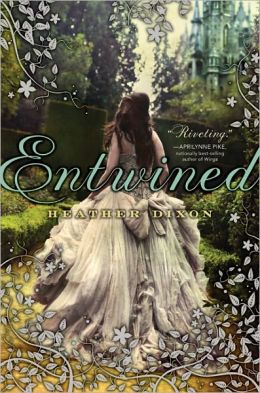 Entwined by Heather Dixon
A retelling of The Twelve Dancing Princesses. And probably my most favorite retelling of this tale - well . . . okay, second-favorite. There is one other that is in heavy competition with it in my affections. What can I say about this book? A brilliant world, lots of fun characters, a good balance of humor and drama, and the villain . . . . . The villain may be why I love this book so much. He's just so awesome.
Princess of the Midnight Ball by Jessica Day George
Another retelling of The Twelve Dancing Princesses. This is the book that is in competition with Entwined. Why? Because of Galen, our protagonist and hero. I just adore Galen; I would love to have an older brother like him. He takes everything in stride, has a good sense of humor, is extremely caring, and quite clever.
Cruel Beauty by Rosamund Hodge
A retelling of Beauty and the Beast. And my favorite retelling of this tale. It was just brilliant. I loved the world, how flawed - yet wonderful - the characters are, and the whole plot. I enjoyed it immensely. It was dark and dramatic and emotional.
Cinder by Marissa Meyer
A retelling of Cinderella. There's a lot of these retellings, and I have several favorites, but this is my ultimate favorite. It was just so much fun. I love Cinder, I love the world, I love how the Author incorporated so many of the original tale's elements while weaving her own story, and best of all - I love how much this book surprised me.
Snow by Tracy Lynn
A retelling of Snow White and the Seven Dwarves. It's been a while since I've read this book, and I need to fix that, because it's one of my favorite fairy tale retellings. It's a darker version and it's awesome.
Scarlet by Marissa Meyer
A retelling of Little Red Riding Hood. One of harder fairy tales to retell, Marissa Meyer once again pulled it off, and it not only is one of my favorite retellings, it's also my favorite in The Lunar Chronicles. And like Cinder, it surprised me - especially with her twist on the Big Bad Wolf. It's predictable, I suppose, but it worked so amazingly well in the world of this series.
Ella Enchanted by Gail Carson Levine
A retelling of Cinderella. Okay, I liked - this is my favorite retelling of this story. Cinder is my second-favorite. As much as I love Cinder as a character, you just can't beat Ella and Char - you just can't! Or the simple charm of her world.
A Tale of Two Castles
A loose retelling of Puss in Boots. Very loose; you have to know the story to catch all the references. But I still consider it a retelling, and it's awesome. I love the protagonist! And Meenore, the suspiciously Sherlockian-ish dragon! It's just a really, really fun book with lots of awesome characters.
Midnight Pearls by Debbie Viguie
A retelling of The Little Mermaid. This may be my favorite simply because I haven't read any other retelling of this fairy tale. But it's really good - as far as I recall. It's been a while since I've read this one, too.
I know there's a retelling I'm forgetting - a retelling of Rumplestiltskin. But I can't remember it! So I guess this is my top 9 all time favorite books in the fairy tale retelling genre.