Waiting on Wednesday is hosted by
Breaking the Spine
.
It's a weekly meme about upcoming books we're excited about!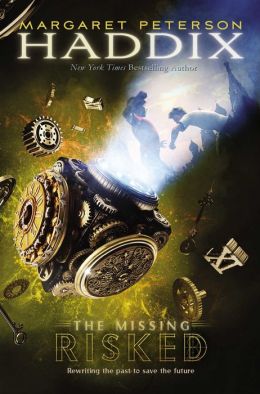 Risked
(The Missing #6)
by Margaret Peterson Haddix
Publication Date:
September 3, 2013
From Barnes & Noble:
When Jonah and Katherine find themselves on a mission to return Alexei and Anastasia Romanov to history and then save them from the Russian Revolution, they are at a loss. Because in their own time, the bones of Alexei and Anastasia have been positively identified through DNA testing. What hope do they have of saving Alexei and Anastasia's lives when the twenty-first century has proof of their deaths?
(The Last Dragonslayer #2)
Publication Date: September 3, 2013
From Goodreads:
As the background Wizidrical Power slowly builds after the Big Magic, King Snodd IV of Hereford realizes the man who controls Magic controls almost anything.
But one person stands between him and his plans for power and riches: Jennifer Strange, sixteen-year-old acting manager of Kazam.
It may involve a trip on a magic carpet at the speed of sound to the Troll Wall, it may involve a second Quarkbeast sniffing around town. It might also involve the mysterious Transient Moose, and a powerless sorceress named Once Magnificent Boo. But one thing is certain: Jennifer Strange and her faithful assistant Tiger Prawns will not relinquish the noble powers of magic to big business and commerce without a fight.