Bought:
The Luminaries by Eleanor Catton
It is 1866, and young Walter Moody has come to make his fortune upon the New Zealand goldfields. On the stormy night of his arrival, he stumbles across a tense gathering of twelve local men who have met in secret to discuss a series of unexplained events: A wealthy man has vanished, a prostitute has tried to end her life, and an enormous fortune has been discovered in the home of a luckless drunk. Moody is soon drawn into the mystery: a network of fates and fortunes that is as complex and exquisitely ornate as the night sky.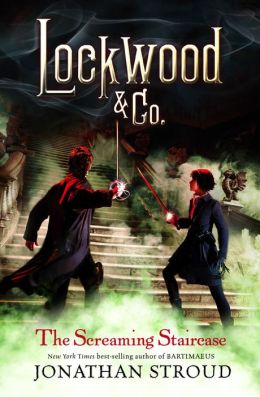 The Screaming Staircase by Jonathan Stroud
A sinister Problem has occurred in London: all nature of ghosts, haunts, spirits, and Specters are appearing throughout the city, and they aren't exactly friendly. Only young people have the psychic abilities required to see - and eradicate - these supernatural foes. Many different psychic investigation agencies have cropped up to handle the dangerous work, and they are in fierce competition for business.
In The Screaming Staircase, the plucky and talented Lucy Carlyle teams up with Anthony Lockwood, the charismatic leader of Lockwood & Co., a small agency that runs independent of any adult supervision. After an assignment leads to both a grisly discovery and a disastrous end, Lucy, Anthony, and their sarcastic colleague, George, are forced to take part in the perilous investigation of Combe Carey Hall, one of the most haunted houses in England. Will Lockwood & Co. survive the Hall's legendary Screaming Staircase and Red Room to see another day?
Island of Fire by Lisa
The Unwanteds have no food, no water, and no hope. And everyone is looking to Alex Stowe for answers.
Overwhelmed and feeling totally helpless, Alex knows it's up to him to find a way to restore Artime, rescue his captive friends, and free Megan from her voice-stealing necklace of thorns - three impossible tasks. But could help lie with the silent, orange-eyed newcomers?
Meanwhile, Alex's twin brother, Aaron, continues to build his army in the stark land of Quill, preparing for the ultimate showdown with the Unwanteds. But a shocking twist reveals that Alex and Aaron share a common enemy more dangerous than either could have imagined. . . .
Fortunately, the Milk by Neil Gaiman
"I bought the milk," said my father. "I walked out of the corner shop, and heard a noise like this: thummthumm. I looked up and saw a huge silver disc hovering in the air above Marshall Road. 'Hullo,' I said to myself. 'That's not something you see every day.' And then something odd happened."
Find out just how odd things get in this hilarious story of time travel and breakfast cereal, expertly told by Newbery Medalist and bestselling author Neil Gaiman and illustrated by Skottie Young.
The Maze of Bones by Rick Riordan
What would happen if you discovered that your family was one of the most powerful in human history? What if you were told that the source of the family's power was hidden around the world in the form of 39 Clues? What if you were given a choice - take a million dollars and walk away . . . or get the first Clue? If you're Amy and Dan Cahill, you take the Clue - and begin a very dangerous race.
ARCs
Cruel Beauty by Rosamund Hodge
Nyx was betrothed to the evil ruler of her kingdom trained for seventeen years to kill him, raised by her world to despise him, willing to trade her own life to destroy him. But what she never expected was that he would change her forever.
This Week, On The Reading Hedgehog.......
January 6, 2014 - Monday
January 7, 2014 - Tuesday
January 8, 2014 - Wednesday
January 10, 2014 - Friday
January 11, 2014 - Saturday
Next Week, On The Reading Hedgehog.......
January 13, 2014 - Monday
Review: Ophelia and the Marvelous Boy - Karen Foxlee
January 15, 2014 - Wednesday
Waiting on Wednesday #31
January 16, 2014 - Thursday
Review: The Interrupted Tale - Maryrose Wood
January 17, 2014 - Friday
ARC Review: The Forbidden Stone - Tony Abbott
January 18, 2014 - Saturday
Weekend Recommendations #30