From the Library:
Starglass by Phoebe North
Terra has never known anything but life aboard the Asherah, a city-within-a-spaceship that left Earth five hundred years ago in search of refuge. At sixteen, working a job that doesn't interest her, and living with a grieving father who only notices her when he's yelling, Terra is sure that there has to be more to life than what she's got.

But when she inadvertently witnesses the captain's guard murdering an innocent man, Terra is suddenly thrust into the dark world beneath her ship's idyllic surface. As she's drawn into a secret rebellion determined to restore power to the people, Terra discovers that her choices may determine life or death for the people she cares most about. With mere months to go before landing on the long-promised planet, Terra has to make the decision of a lifetime - one that will determine the fate of her people.

Won:
Trapped in Paris by Evelyne Holingue
Sixteen-year-old Cameron and Framboise have nothing in common and no reason to meet. But when a volcano eruption in Iceland interrupts all air traffic activity, the two teenagers find themselves trapped in Paris.

When they witness a murder on the River Seine and are kidnapped by a mysterious dangerous man, they become unlikely partners in a fast spine-chilling four-day adventure through the Parisian suburbs. Confronted with exceptional events, Cameron and Framboise must rely on each other. When they get separated, after a disagreement, Cameron will trust his survival instincts, brave danger, and act with unexpected courage.

Ultimately Cameron and Framboise will also overcome their personal grief and open their hearts to the possibility of change and love.

Bought: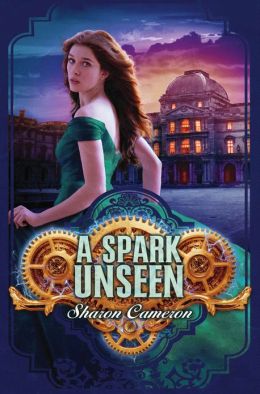 A Spark Unseen
by Sharon Cameron
When Katharine Tulman wakes in the middle of the night and accidentally foils a kidnapping attempt on her uncle, she realizes Stranwyne Keep is no longer safe for Uncle Tully and his genius inventions. She flees to Paris, where she hopes to remain undetected and also find the mysterious and handsome Lane, who is suspected to be dead.
But the search for Lane is not easy, and Katharine soon finds herself embroiled in a labyrinth of political intrigue. And with unexpected enemies and allies at every turn, Katharine will have to figure out whom she can trust - if anyone - to protect her uncle from danger once and for all.
September 23, 2013 - Monday
September 24, 2013 - Tuesday
September 25, 2013 - Wednesday
September 26, 2013 - Thursday
September 27, 2013 - Friday