This is my new (hopefully) weekly feature, where I get to go all fannish about two randomly-picked favvies (which may not actually be favorites, but got a rating of 3 smiley faces or higher) that I would recommend to friends! So, here are this week's two picks:
Title: The Princess and the Hound
Author: Mette Ivie Harrison
Genre: fairy tale retelling
Part of a Series: Animal Magic Trilogy #1
Rating: 3 out of 5
Who'll Like It: It's a girl-read, great for fairy tale retelling fans looking for a more original twist on the Beauty and the Beast story.
Why I Liked It:
The Princess and the Hound was slow going for me at first, as the Author set the world up, and I honestly didn't care all that much for George in the beginning. But as the story progressed, I began to appreciate the meticulous care the Author took with her world building, and I grew to really like George. The romance occurs at a realistic pace, which I really appreciated, and Beatrice was a very interesting girl. I also really liked the twist the Author did with Beauty and the Beast - it was very original.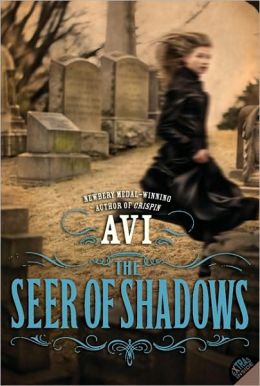 Title: Seer of Shadows
Author: Avi
Genre: historical fiction, supernatural
Part of a Series: No
Rating: 4 out of 5
Who'll Like It: Girl-and-boy read, great for fans of ghost stories placed in a historical setting. And of course, Avi fans will like it, too.
Why I Liked It:
I enjoy a good ghost story now and again, and I am especially a fan of ghost stories that take place in a historical time period. Somehow, it makes that story all the creepier. And I am also a long-term Avi fan. I've loved his books ever since I was a kid. I loved the small, but complicated, cast of characters in this story, and the fact that Horace was capable of being friends with Pegg without a mushy adolescent romance cropping up. And of course, the Victorian era was awesome.